Interviewing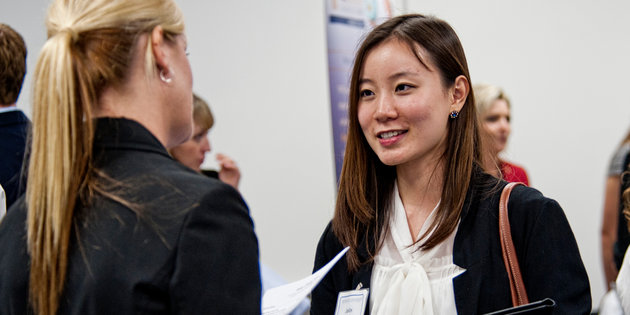 The gateway to every job is performing well in the interview. A successful interview entails preparation, practice, performance and follow-up.
Complete Guide to Interviewing
Preparation
Research the Organization
As you prepare for the interview, investigate the organization's mission, vision, and culture. As an applicant, you will want to know whether you are a "mission fit" and "culture fit" and if so, be able to clearly articulate this "fit" in your interview. Collect organizational information, including any trends or current events, from the company website, annual report, press releases and your contacts in the company or industry. Arrange an informational interview with your networking contacts to enhance your knowledge of the career field and industry.
Know the Position
Understand who the ideal candidate is for the position to which you are applying. Thoroughly review the description for the position and use it to anticipate the set of skills and qualities desired by the hiring manager. Take careful note of any key words and phrases, especially if they are mentioned more than once. Armed with this information, you will be able to persuasively relate your experiences and skills to the position.
Refine Your Story
Engage in active self-reflection to describe who you are, what you can offer and how you will contribute to the organization. In conceptualizing your story, think about how certain experiences and opportunities have shaped you and your career trajectory. Your offerings include skills, strengths and individual personality traits. Be prepared to articulate your story in a way that demonstrates an understanding of the organization's needs and how you will fulfill them.
Review Your Application
Make sure you are familiar with all of the application materials you submitted and be able to elaborate on each component, particularly the information described on your resume. On the day of the interview:
Bring 2-3 extra copies of your resume and cover letter.
Bring a typed list of references to offer at the end of the interview if it feels right.
Develop Questions for the Interviewer
Based on your research of the company and understanding of the position, formulate a list of questions that cover topics of interest to you. Your questions can range from the logistics of the interviewing and hiring process (e.g., "What is the next step in your selection process?") to broader, more complex subjects (e.g., "What are the current goals of the company?"). Refrain from asking for information that can be gleaned from the company website or questions relating to salary, vacation or other benefits until you are offered the position. Instead, ask informed questions that reveal your understanding of the position, organization and industry. This is your opportunity to impress the interviewer with your knowledge and illustrate your commitment to the position. Sample questions for the interviewer include:
What are the organization's strengths?
What are some areas it is seeking to improve?
What do you consider to be the most challenging aspects of this position?
How would you describe the work environment?
Are there opportunities for advancement or professional development?
What skills and experiences are you looking for in an ideal candidate?
Practice
Hone Your Responses to Interview Questions
Rehearse your responses to potential interview questions to become more comfortable with explicitly communicating your value to the interviewer. Create a list of your individual strengths, accomplishments and relevant experiences that indicate your potential to succeed in the position. Be sure to support your top strengths and qualities with specific examples and anecdotes. When responding to interview questions, clearly answer each part of the question. In evaluating your responses, ask yourself the following questions:
Am I keeping in mind the organization's needs rather than my own?
Do my responses emphasize my unique strengths and value?
Is it clear to the interviewer how my skills and experiences align with the organization's needs?
Is it clear to the interviewer how my personality, values and interests are a strong match with the culture and values of the department and organization?
Enhance Your Non-Verbal Communication Skills
Analyze and enhance your non-verbal communication skills, as they can be just as important as your verbal communication skills during the interview. Practice the following non-verbal communication techniques to improve your overall interview performance:
Provide a firm handshake to make a favorable first impression and demonstrate your confidence. Maintain steady eye contact with each of your interviewers.
Use a relaxed tone of voice, facial expression and posture while expressing a high level of engagement and enthusiasm for the position.
Identify and eliminate nervous mannerisms that could be distracting to both you and the interviewer.
Engage in active listening to convey your interest in the position and establish rapport with the interviewer.
Use pauses effectively if you need a moment to prepare your response to any questions or strategize your next move.
Perform
Dress for Success
Professional attire reinforces your image as a person who takes the interview process seriously. Your attire should be appropriate for the industry without drawing unnecessary attention from the interviewer. If you have any doubts about your interview outfit, lean toward the side of being over-dressed and more conservative. Keep the following tips in mind:
Dress in a well-fitting, ironed, dark colored suit. Try it on in advance and have at least one interview ensemble on hand that makes you feel comfortable and confident.
Avoid sleeveless shirts, sandals, and bare legs.
Refrain from using heavy amounts of cologne or perfume, if any.
Bring your resume, list of references and any other documents in a leather portfolio with paper and a pen for taking notes.
Follow the Lead of the Interviewer
The interviewer will guide the interview, therefore, follow his or her lead. You can establish a stronger connection with your interviewer by mirroring their verbal and non-verbal language without parroting or coming across as patronizing. Listen closely and extract key words from the information they share; then, infuse them into your own message. If the interviewer uses humor, consider it safe to insert it into the dialogue if it feels natural and you can use it appropriately. Maintain a high sense of eagerness and enthusiasm, even if the interviewer does not appear markedly excited or interested. Rather than attempting to impress the interviewer every single moment of your interview, approach the experience with the intent of having a genuine, positive exchange with the interviewer for the purpose of sharing information and ideas.
Set Yourself Apart from the Rest
A common interview question is, "Why should I choose you over other candidates?" Be prepared to address this question even if it is not directly posed to you. Know your selling points and support them with evidence throughout your interview. If you can deliver your response in a fluid, clear and precise manner, you will demonstrate the level of depth and confidence necessary to persuade the interviewer. Steer the topic back to why you are a strong fit for the position and do not hesitate to secure the position by emphasizing why you believe you are the best candidate at the end of the interview.
Determine the Next Step
Inquiring about the next step in the hiring decision process demonstrates initiative and interest. Appropriate questions include, "What is the next step in the interview process?", "Are you available in case I have further questions?", and "When can I expect to hear from you?". Be sure to obtain a business card from each interviewer.
Follow Up
Thank the Interviewer
Send a thank you note to each of your interviewers within 24 hours of the interview. Try to reference something specific about the interview and highlight a particular experience, skill or strength that make you distinctly qualified for the position. Also provide any additional information or documents requested from you. Your expression of gratitude is an opportunity to reiterate your interest in the position and company while making a favorable impression on the interviewer.
Evaluate Your Performance
Once the interview has ended, take an opportunity to reflect on your experience. Evaluate the high points, your particular strengths as an interviewer and areas that warrant improvement. Based on the information you gathered from the interviewer, continue to gauge your interest and fit for the position, as well as any reservations you may have and how you can resolve them if an offer is extended to you. Your self-assessment will guide you in refining your skills during interviews and other situations where you must present yourself professionally.
Additional Resources