Help a Wave
Support fellow Waves in their career development by volunteering your time and expertise. Make a difference today!
Help Waves Across the Nation
Join PeppConnect
In this unique virtual community, Pepperdine alumni, faculty, staff, and parents have made themselves available to offer the exact resources you're looking for in one convenient location. Log in today to build professional, personal, and purposeful relationships with Pepperdine people all over the world. Join Your Community
Invite Current Students to Job Shadow
Welcome a student to observe the day-to-day realities of your career with the Job Shadow Program. Through observation in a professional setting, students are able to investigate a career field, narrow their career goals and interests, and solicit practical advice from an expert who has valuable experiences to share. Typical job shadow visits last from 1 half day to 5 days and occur during spring break and summer break. Learn more about the Job Shadow Progam
Informational Interviews
Volunteer to share your insights and experience with alumni and students interested in your career field. This is a valuable service to alumni seeking a career change and students seeking to enter a career field - both benefit from an insider perspective. If a fellow Wave reaches out through LinkedIn or email, consider taking time out to respond or offer a brief phone interview.  Every bit of advice can build the confidence of job seekers in competitive market. 
Waves in the Los Angeles Area
Hang 10 Dinners
Host up to 10 students in your home for a dinner party to share stories, pass on traditions, and invest in the lives of students. You can even invite a favorite faculty or staff member to join. Learn more
Night2Network
Share your insights on an industry panel that provides students with a new perspective on your career field. During the fall and spring semesters, Nights2Network are scheduled once a month in the evenings on the Malibu campus. See dates and sign up to attend
Waves Online
Waves Hiring Waves - LinkedIn Group
Post a Job/Internship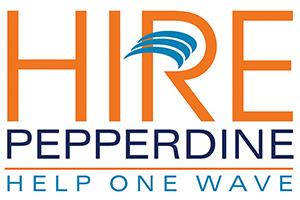 Why Hire Pepperdine?
Highly rigorous academic learning in small liberal arts environment
More than 80% of students complete at least one internship
65% of students work as student employees
Values centered focus on ethical service and leadership
Robust student leadership and extracurricular involvement
60% of students study abroad and build global experience
Focus on desired transferrable skills like teamwork and problem solving