Events & Programs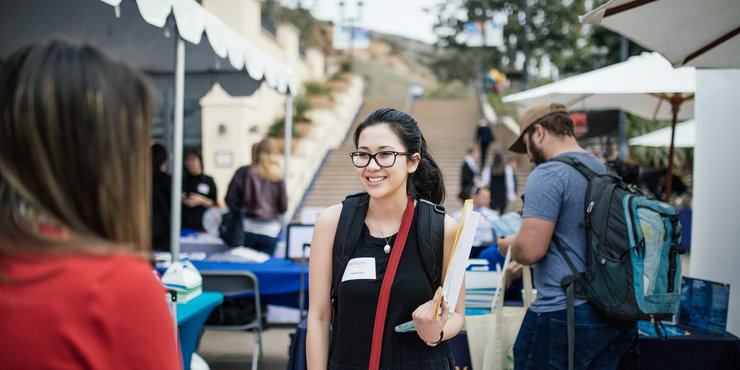 The Seaver Career Center hosts a variety of events, ranging from Industry Fairs and employer information sessions to workshops and other professional development programs. These events are a great way to meet recruiters on-campus and develop professional skills.
Career Fairs
Business & Technology Industry Fair
Network with recruiters from the Business, Finance, Accounting, IT, and Technology Industries who are recruiting for business and technology-related roles within their companies. Visit Handshake to learn more.
Careers with Social Impact Industry Fair
Explore career pathways within Healthcare, Education, Social Services, Advocacy, International Relations, and Ministry Industries. Visit Handshake to learn more.
Meet over 50 employers recruiting students for job and internship opportunities. Visit Handshake to learn more.
Industry Specific Events
Learn from a panel of health professionals sharing their experiences in the field of Healthcare and Medicine. Visit Handshake to learn more.
Arts, Entertainment & Media Industry Night
Network with alumni and employers in the Arts, Entertainment, and Media related industries. Visit Handshake to learn more.
Career Exploration Programs
Career Treks are opportunities to engage in career exploration by visiting leading companies across the nation. Explore unique professions and network with Pepperdine alumni in cities such as Los Angeles, Seattle, New York, San Francisco, and more. To learn more about Career Treks, click here.
The Job Shadow Program offers students the unique opportunity to explore an industry, organization, or job function while shadowing Pepperdine alumni and/or friends of the university in their various work environments for one day of hands-on and rewarding career exploration. To learn more about the Job Shadow Program, click here.
The Career Coaching Program is an intensive semester-long mentoring program open in which Seaver juniors and seniors are matched with a coach to receive professional development coaching. Students receive extensive program materials covering topics such as professional documents, internship/job search strategies, interviewing preparation, business etiquette, networking, and career advancement. To learn more about the Career Coaching Program, click here.
Career Workshops
We will show you how to create a college-level resume, and cover letter, start a LinkedIn profile, and what steps you can take to find an internship, job, or apply for grad school.
Ready, Set, Resume! This event is an excellent way for you to fine-tune one of your best marketing tools – your resume. Drop by the Career Center with a current copy of your resume on your device or on paper for a speed (15 minutes or less) resume review! Don't have one yet? Bring information about your past professional/volunteer experiences - we can help you from there!
We know that interviews can be nerve-wracking. This workshop will help you understand how to prepare before, during, and after the interview. This includes, what to wear, how to act, sample questions for the interviewer, and more.
This workshop covers the important steps of preparing for and applying to graduate school including writing a statement of purpose and creating a CV.
According to Nerdwallet, only 38% of recent graduates negotiate their salary upon receiving a job offer. And that's despite three-quarters of employers saying they typically have room to increase their first salary offer anywhere between 5 - 10%. In this workshop, we will address how to evaluate an offer and learn negotiation strategies that will help you feel more confident and prepared for your first job after graduation.
We know that students have particular needs for their job search depending on their background and situation. We also recognize that the subjects of identity and career often intersect as students become professionals navigating career opportunities and workplace environments. During this presentation, the Career Center offers resources and programs designed for students who identify with underrepresented and marginalized backgrounds.
Handshake is the complete resource for up-to-date information on events and programs. Log in for details and registration.