Practice Interviewing
Schedule a mock interview with the a specialist in the career center, an industry professional in your network, or even a professor with knowledge of the industry. You can also use PeppConnect to identify alumni who may offer mock interview assistance.
You won't be able to prepare for every single question the interviewer asks but you can have a good idea of common questions. Here are different types of questions you may encounter.
Behavioral/Fact-based - These questions prompt you to provide a real-life example of how you handled a certain kind of situation at work in the past.
Situational - These questions present you with a hypothetical situation and ask you how you would resolve the problem or respond to the situation.
Technical - If applicable, these questions will relate to specific knowledge about the organization's technical activities.
Here are some additional resources for finding potential interview questions.
STAR stands for situation, task, action, and results. The STAR method will help you structure your answers to behavioral and situational interview questions because it provides a framework for helping you to tell a meaningful story about a previous experience or how you might respond to a situation based on previous experience.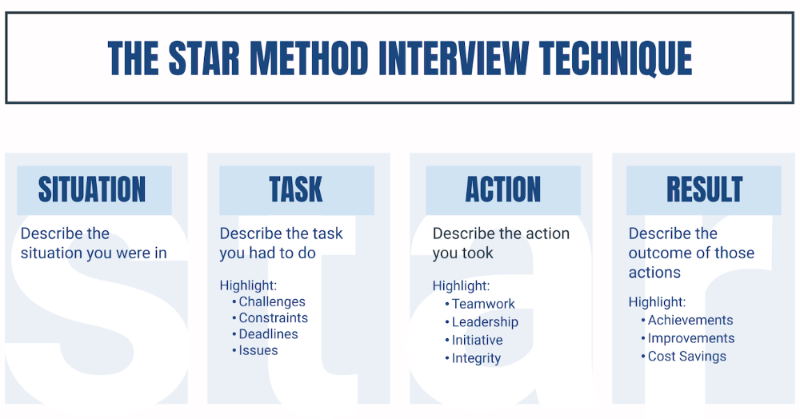 The STAR Method In Practice
"Describe a situation in which you led a group of people."
Situation/Task - Last year I was the chairperson of my sorority's philanthropy committee. I led a committee of 10 people in organizing and promoting events that benefited Habitat for Humanity.
Action - I was responsible for leading weekly meetings, delegating assignments to committee members, and motivating the entire 150 member sorority to get involved with our philanthropic activities.
Result - During the year we held a fundraiser each semester for Habitat for Humanity and raised over $5,000 for the organization, which was a 20% increase over the previous year. While in the position, I not only developed my communication, organization, and management skills, but also gained a greater awareness of the importance of community.
*Remember, in the interview, only provide the content of the example or situation you are sharing. Do not mention the steps of the method in your answer.
Rehearse your responses to become more comfortable with explicitly communicating your value to the interviewer. Create a list of your individual strengths, accomplishments and relevant experiences that indicate your potential to succeed in the position. Be sure to support your top strengths and qualities with specific examples and anecdotes. When responding, clearly answer each part of the question. In evaluating your responses, ask yourself the following questions:
Am I keeping in mind the organization's needs rather than my own?
Do my responses emphasize my unique strengths and value?
Is it clear to the interviewer how my skills and experiences align with the organization's needs?
Is it clear to the interviewer how my personality, values and interests are a strong match with the culture and values of the department and organization?
You are responsible for explicitly communicating your value. Don't expect employers to assume the best about you if you don't tell them yourself.
Analyze and enhance your non-verbal communication skills, as they can be just as important as your verbal communication skills during the interview. Practice the following non-verbal communication techniques to improve your overall interview performance:
If given the opportunity, provide a firm handshake to make a favorable first impression and demonstrate your confidence. Maintain steady eye contact with each of your interviewers.
Use a relaxed tone of voice, facial expression and posture while expressing a high level of engagement and enthusiasm for the position.
Identify and eliminate nervous mannerisms that could be distracting to both you and the interviewer.
Engage in active listening to convey your interest in the position and establish rapport with the interviewer.
Use pauses effectively if you need a moment to prepare your response to any questions or strategize your next move.
Quick Facts
98.5%

of employers rated critical thinking and communication skills as very/extremely important (NACE Job Outlook 2022).