Alumni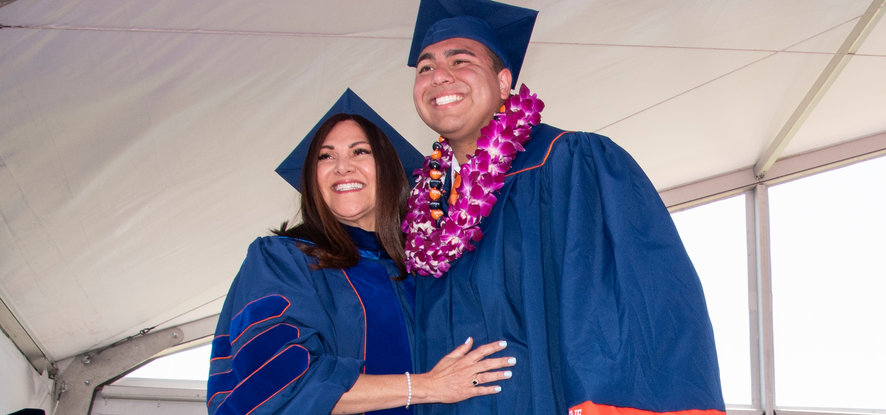 The Career Center provides alumni with access to tools to build their network, focus their job search, improve their resumes, and prepare for interviews. We also aim to bridge connect alumni with current students seeking career guidance and exposure, and connections with the expansive community of Waves in the workforce. Become part of the H.I.R.E. Pepperdine campaign by posting internship and job opportunities for fellow Waves, or supporting current students through mentoring.
Want to host a current Wave at your place of business or share insights about your career journey with them? We invite you to serve as a host in our Job Shadow Day Program.
Invite a current student or more to shadow you at work either in-person or over a video conference. By sharing your career and industry insights, you are supporting students' professional development and providing them with exposure to potential career paths. We welcome alumni from all career fields and industries to host from wherever you are.
The goal of Pepperdine Career Treks is to bring students into the workplaces of alumni in order to expose them to potential careers and broaden their understanding of various industries and occupations. We welcome our alumni to host a group of current undergraduate students at their workplace to share their success after Seaver stories. Please email the Director of Career Opportunities, Maile Hetherington for more information.
Visit campus in the fall or spring to host an information session and/or hold in-person interviews for an internship or job with your organization.
Advertise an internship or job on Pepperdine's career platform, Handshake.
Pepperdine alumni are committed to living lives of service and have so much to offer to the global community. Find volunteer opportunities within Pepperdine, including student mentorship, regional alumni programming, and more. Join our vibrant alumni community and find ways to share your talents!
Expand your network on PeppConnect, Pepperdine's exclusive platform for connecting with alumni for mentorship and career guidance. Search for alumni based on industry, affinity, areas in which you need help, shared involvement in campus organizations, and more. Easily use your LinkedIn login to populate your profile and register in just a couple of minutes.
Post and identify job postings and network with alumni in your industry area of interest.
Local & Affinity Networking
Access Tools for Your Job Search
Job Search
Visit our Job Search Strategies page for an overview of the process.
Use Handshake and other job search websites to search for postings.
Ensure your resume and cover letter are polished and tailored to the positions you are applying for by referencing our Resume & Cover Letters page.
Network
Network with alumni and professionals through Pepperdine recruitment, networking, and professional development events. Click here to see upcoming events.
85% of jobs are filled through networking. In fact, according to CNBC, 70% of jobs are never published publicly. Network with alumni and professionals in your field of interest to access this "hidden job market". Use our Informational Interview Guide for tips on navigating this process.
Interview Prep
Visit our Interview Prep page for an overview of the interview process, helpful tips, and sample questions.
Meet with an Industry Specialist
Make an appointment with an Industry Specialist to tailor your job search and application process to your job function and industry.