Employers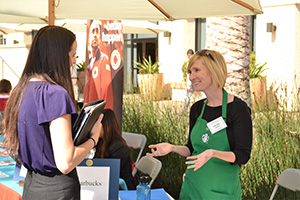 Connect with Pepperdine's diverse and accomplished undergraduate students at Seaver College. The liberal arts experience, complete with rigorous academics, small classes sizes, international experiences, and highly engaged faculty cultivate an enriched foundation for outstanding talent. Meet prospective interns and entry-level candidates face-to-face through campus tabling, information sessions, career fairs, networking events, and on-campus interviews.
These events provide an excellent opportunity to collect resumes for employment opportunities, showcase your company and institution, and join the Pepperdine community.
For more information please contact our office at (310) 506-4184, or send an e-mail to csoevent@pepperdine.edu
The Student Employment Office provides job posting services for on-campus and off-campus part-time jobs for current students.