Seaver College at a Glance
Seaver College is consistently recognized among the top-ranked universities in California and the United States.
---
The curriculum at Pepperdine emphasizes the broad discovery of many disciplines, as well as a deep concentration in one area of study. Semester-long general education courses sharpen critical thinking, improve information literacy, and build a learning community.
---
Located in the heart of Malibu and surrounded by the rolling foothills of the Santa Monica Mountains, Seaver College overlooks the Pacific Ocean and is just minutes from the city limits of Los Angeles.
of Students Participate in International Programs
Among the Top in the Nation for Number of Students who Study Abroad
(Institute of International Education)
International Campuses
• Buenos Aires • Florence • Heidelberg • Hauteville • London • Washington DC
---
Go Waves!
School Colors
Blue and Orange
Athletic Mascot
Willie the Wave
Student Fan Club
Riptide
Olympic Highlights
Since 1956, 59 student-athletes and alumni have either competed in or coached at the summer Olympics.
7 Gold
8 Silver
4 Bronze
---
Our close-knit, supportive community is the ideal setting for students to explore their interests and talents outside of the classroom while making meaningful and lasting friendships.
Undergrads
19 Students - Average Class Size
42:58 Male-Female Ratio
63% Number of Students Living on Campus
110 Student Clubs
13 Fraternities and Sororities
1,000+ On-Campus Events Each Semester
Wellness
4 Fitness Centers
2 Fields
1 Olympic-Sized Pool
17 Men and Women Division 1 Teams
14 National Championships
12 Individual National Championships
First-Year Retention Rate
Fall 2021 to Fall 2022- 88%
Fall 2020 to Fall 2021 - 93%
Fall 2019 to Fall 2020 - 85%
Race and Ethnicity by the Numbers
46% White
18% Hispanic or Latino
14% Asian
9% International
7% More than One Race
4% Black / African American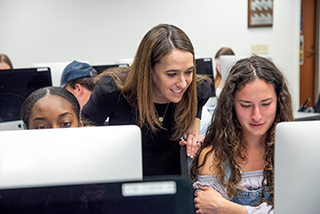 Our accomplished faculty seek to develop personal relationships with students and serve as mentors, research partners, and graduate school and career advisors.
Number of Faculty Holding Highest Degree in Field
---
Higher Purpose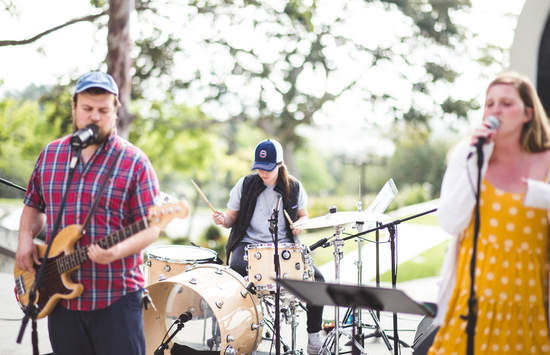 Seaver College is a Christian university where students learn at the intersection of faith and reason and are strengthened for lives of purpose, service, and leadership. From local service initiatives to programs that explore the enduring relationship between Judaism and Christianity, Pepperdine affirms its mission and encourages spiritual formation through opportunities that serve a global community.
Chapel
Chapel exists to create gatherings for first- and second-year residential undergraduate students to feel welcomed into the community and explore their faith through the themes of love, truth, goodness, and beauty. This required programming provides a model of vibrant faith practice for students as they become leaders in the world, just as George Pepperdine envisioned.
Number of Core Chapel Students Will Attend Each Semester
Number of Connection Chapels Students Will Attend Each Semester
---
Christian values, rooted in a Church of Christ heritage, are at the heart of academics and spirituality at Pepperdine. Students explore topics of faith and reason, creation care, and social justice, and examine the broad content of a liberal arts education in dialogue with the Christian faith. Pepperdine welcomes people of all faith and encourages forthright conversation in a common pursuit of truth.
Top 12 Religious Affiliations for All Undergraduate Students
Other Christian (47%)

Catholic (14%)

None (9%)

Agnostic (7%)

Church of Christ (7%)

Spiritual (6%)

Atheist (3%)

Identity Not Listed (3%)

LDS (Mormon) (1%)

Muslim (1%)

Buddhist (1%)

Hindu (1%)
---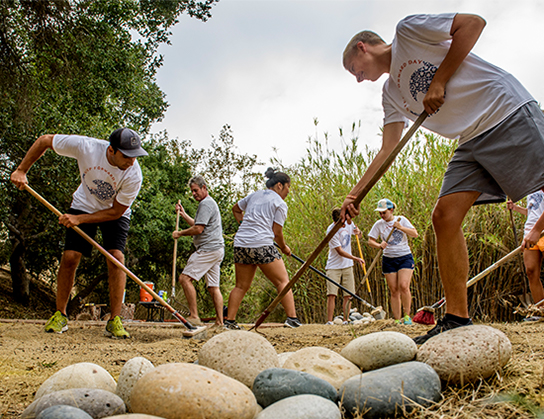 Service is an integral part of our mission, demonstrated through the volunteer work of our students, faculty, and staff.
72%
of Students Volunteer
75,000
Donated Service Hours per Year
Inspired by our motto, "Freely ye received, freely give," Pepperdine is dedicated to expanding its student veterans program in an effort to support those who served and gave freely.
---
Some of the greatest benefits of earning your degree at Pepperdine are the school's professional preparation and leadership development opportunities, which provide real-world experiences rooted in ethical decision-making and critical thinking in a global context.
of Graduates Are Employed, Accepted to Grad School, Volunteering Full Time, or in the Military Six Months After Graduation
of Students Graduate in Four Years
of Undergraduate Students Receive Financial Assistance
or Higher Average Job Success Rate Over the Past Three Years
For more information on Seaver College outcomes, visit Success After Seaver.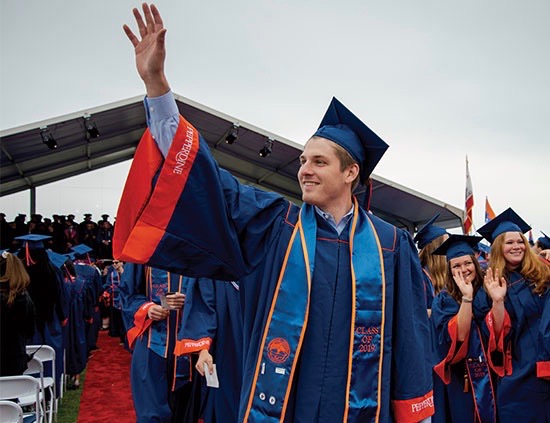 Six-Year Graduation Rate
Class of 2016: 84%
Class of 2015: 83%
Class of 2014: 87%
Grad School Success Rate
Class of 2020: 90%
Class of 2021: 95%
Class of 2022: 72%
---
*All academic, enrollment, and financial statistics listed are based upon figures or official estimates available as of July 25, 2023, and some may be subject to change.