Seaver Parents: Get Involved


There are many opportunities to become involved on the Seaver Parents Council through its various committees and volunteer opportunities. We hope you will be involved and volunteer with the committee that best fits your interests.
Parent Volunteer Opportunities
Pepperdine Parent Spring Coffees ~ Hosts Needed
Host fellow parents for a relaxing morning of coffee and conversation at your home or local coffee shop. Share stories and meet other Pepperdine parents who are also navigating the college journey as well as parents of recent graduates (PLUMS) in a casual setting. Coffees will be held nationwide. BYOC (Buy your own coffee)! GET INVOLVED!
If you are interested in hosting a local coffee near you, please contact Christine Galvin at christine.galvin@pepperdine.edu or (310)506-6334. Looking forward to hosting with you soon!
Send-off Party Season 2020 Coming!
Current parents as well as parents of recent graduates (PLUMS), and alumni help us welcome our incoming Pepperdine families at Summer Send-off Parties all around the country!
To volunteer this summer to help or to host a party in your hometown, email Christine at Christine.galvin@pepperdine.edu . We look forward to working with you!
---
Parent Volunteer Thank you!
Thank you to all of you who helped out this fall! We are always looking for parent volunteers and greatly appreciated your support. Volunteering is always a fun, easy way to be involved and to reconnect with old friends or meet new Pepperdine families.
For more information or to volunteer, please email Christine at christine.galvin@pepperdine.edu. We look forward to working with you!
Adopt-a-Dorm ~ Adoptive Parents Wanted
Adopt-A-Dorm is a program to enhance freshman, first-year, and transfer students' learning, living, and community experiences both inside and outside the dorm. Adoptive parents will be dedicated to helping the Housing and Residence Life (HRL) staff group comprised of Residential Advisors, Spiritual Life Advisors, and the Residential Director, better meet the physical, spiritual, and emotional needs of the students in their residence hall (dorm). Adoptive parents will bless students and the HRL staff group by Assisting, Donating, Organizing, Praying and Treating their adopted hall during the academic months of September to April. Parents close by or far away are welcome to adopt. Adopt your student's hall today!
Get involved here:
DONATE directly to support your student's residence hall or the Adopt-a-Dorm Endowment Fund HERE

For more information and to get involved, please email christine.galvin@pepperdine.edu.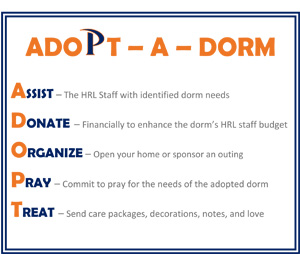 Parent Council Committees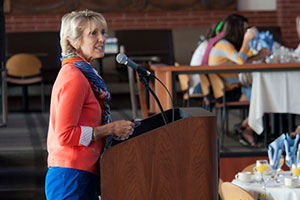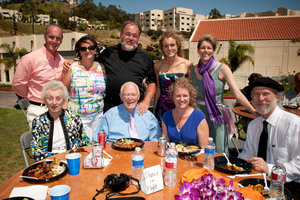 Join the Parent Council in supporting and interacting with your grandchild and other Waves grandchildren here at Pepperdine throughout the year.
Parent Council Survey and Contact Updates
Survey: To help us better understand what you would like to do, please take a moment to complete a brief survey by clicking here.
Contact Updates: Has your contact information changed? Changed employers? Want to increase your involvement with students? Tell us using this update form.