New Student Send-Off Parties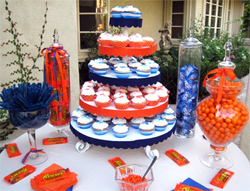 Sponsored by the Parents Program and Alumni Affairs Office of Engagement
In hometowns across the nation, we welcomed our newest Waves from across the country this summer at our special New Student, Parent, and Family Send-off Parties and Alumni Gatherings!
What is a send-off party and alumni gathering?
These events were designed especially to welcome new students, parents, and family members of newly admitted Seaver College students as well as visit with local Pepperdine alumni and friends. Send-offs and alumni gatherings were held in cities spanning the United States and occur during the summer months, beginning late May and concluding in early August.
The parties provided an opportunity for:
New students, parents, and families can mingle with Pepperdine leadership, meet one another, be inspired by alumni, and ask all their questions before arriving on campus this August.
Alumni can network with one another, meet Pepperdine leadership and discuss the new vision, and encourage the next generation of Pepperdine Waves as they begin their college journey.
2023 Summer Parties and Alumni Gatherings:
Location
Arizona:
Scottsdale, AZ - Completed
California:
Bel Air, CA - Completed
Conejo Valley, CA - Completed
Malibu, CA - Completed
Newport Beach, CA - Completed
Pasadena, CA - Completed
Rancho Santa Fe, CA - Completed
Sacramento, CA - Completed
San Francisco, CA - Completed
San Jose, CA - Completed
Sherman Oaks, CA - Completed
Yorba Linda, CA - Completed
Colorado:
Denver, CO - Completed
Connecticut:
Darian, CT - Completed
Florida:
Miami, FL - Completed
Georgia:
Atlanta, GA - Completed
Illinois:
Chicago, IL - Completed
Indiana:
Indianapolis, IN - Completed
Location
Kansas:
Lenexa, KS - Completed
Michigan:
Northville, MI - Completed
Minnesota:
Minneapolis, MN - Completed
New Jersey:
Morristown, NJ - Completed
Nevada:
Henderson, NV - Completed
Tennessee:
Nashville, TN - Completed
Texas:
Dallas, TX - Completed!
Utah:
Park City, UT - Completed
Virginia:
VA/DC - Completed
Washington:
Bellevue, WA - Completed
Camas, WA - Completed
2023 Party Hosts
Send-off Parties and Alumni Gatherings can be hosted by Pepperdine alumni, current parents, parents of alumni, or friends of Pepperdine University. If you are interested in hosting one of our 2024 events please contact Christine Galvin at christine.galvin@pepperdine.edu