Calendar and Events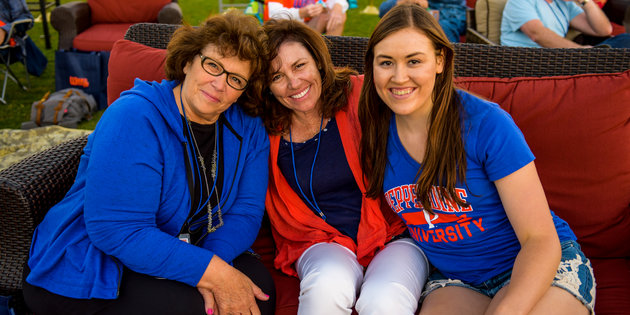 Recent News, Events, and Resources
See when your son or daughter is taking exams or returning home for breaks.
---
Join fellow parents, faculty, and staff as we begin the new year on our knees praying for the needs of Pepperdine students, programs and leadership. We will publish a daily prayer calendar to guide you all 365 days of the year. March 2019 Prayer Calendar.
---
Join fellow parents for a relaxing morning of coffee and conversation. Share stories and meet other Pepperdine parents who are also navigating the college journey. These coffees will be held in homes and at local coffee shops around the nation. BYOC (Buy your own coffee)! Locations coming soon!
If you are interested in hosting a local coffee near you, please contact Christine Galvin at christine.galvin@pepperdine.edu or (310)506-6334. Looking forward to hosting with you soon!
---
Parents served as University ambassadors to greet and inform admitted students and their families. These receptions were hosted in cities nationwide by the Office of Admissions with the assistance of the Seaver Parents Council. Look for a location near you next year to register and get involved!
Malibu Reception ~ Friday, April 5, 2019
Regional Receptions including: Austin, Northern California, Dallas, Houston, New Jersey, D.C., Seattle, Nashville, Chicago, Phoenix, Denver, and Hawaii.
If you are interested in volunteering, please contact Christine at christine.galvin@pepperdine.edu . We look forward to working with you soon!
---
Pepperdine parents and alumni will once again welcome new students and their families to the University at these informal gatherings. These receptions are hosted in cities nationwide by the Seaver Parents Council. Join us at a Send-off Party next summer!
If you are interested in volunteering at a party in your area next summer or hosting a party next summer, please contact Christine Galvin at (310)506-6334 or christine.galvin@pepperdine.edu
---
NSO is a program intentionally designed for incoming students and their parents. The student session runs for 5 days;. The parent session runs for 3 days. The program includes information on academics, student activities, student services, living on campus, international programs, and much more. NSO is mandatory for all students. Most first-year parents attend this event.
The registration fees for parents and other family members TBA. There is NO CHARGE for incoming students.
Registration for Fall 2019 NSO coming soon here!
---
This special weekend will be held October 11 - 12, 2019. This unique weekend combines family weekend and homecoming giving alumni and current families to return to campus and enjoy fun activities and entertainment, as well as to become better acquainted with other Pepperdine families. Hope to see you there next year!
---
Pepperdine's 2019 Wave Classic will be again hosted at The Riviera Country Club's championship golf course located in Pacific Palisades, California on October 21, 2019. Owning a legendary place on the American golfing landscape, Riviera's famed George Thomas-designed golf course has hosted one U.S. Open, two PGA Championships and a U.S. Senior Open, in addition to serving as the perennial site of the PGA Tour's Northern Trust Open. This exhilarating event has blessed Seaver College students and faculty with more than $2,000,000 in scholarship and program resources. The men's and women's golf teams have also been a generous beneficiary of this tournament's proceeds.

Our exciting day consists of a tasty breakfast, barbeque lunch; contests will include a Golf "Warm-Up" Clinic, Longest Drive, closest to the pin and Putting Contest. The day closes with a cocktail reception and awards dinner followed by silent and live auctions.
If you are interested in playing in or supporting this annual event at the 2019 Wave Classic please contact Kim Barkis at Kimberly.Barkis@pepperdine.edu or (310) 506-6110.
---
Many thanks to our wonderful parents who volunteered with us recently at the following 2018 events: Summer Send-off Parties, New Student Orientation, and Regional Information Sessions!