A Parent's FAQ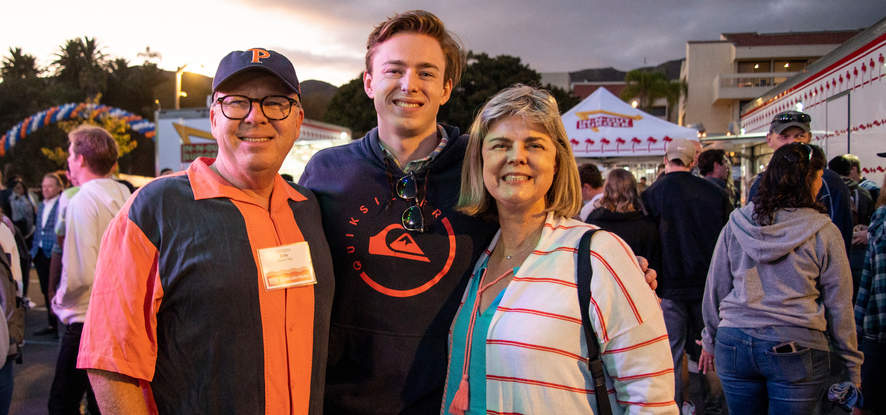 Explore our list of frequently asked questions below. If you have a question that was not answered in the list below, contact us.
 

What are the biggest adjustments during the first year?

Homesickness and leaving the family behind are challenges during the first year. Students indicate that it helps if family members keep in close contact by phone, e-mail, sending care packages and letters. Other items that make them smile are pictures, holiday cards, and maybe a Starbucks gift card that will come in handy around midterms and finals. Another area of adjustment is having a roommate and all aspects of sharing the space--especially if your student is accustomed to having his/her own room. The academic pace can be an adjustment since most Pepperdine University students were successful in high school. This environment can be more competitive. Finally, going home again can be challenging because everyone has changed--the student, the family, friends, as well as the community.
 

When is the best time to travel home for the first time?

Students recommend that new students wait a couple months before going home for the first time, citing Thanksgiving to be a good goal. Being here allows students to connect and thrive within the Pepperdine community. Holiday breaks are also great opportunities to travel home with new friends. Interim housing (on-campus) is made available to students who decide to stay in Malibu for holiday breaks, excluding Spring Break. 
 

How can she/he call home?

Students wishing to use cellular phones on the Malibu campus will find that AT&T™ and Verizon™ enjoy the best cell coverage. Cell phone representatives will be on campus during the New Student Orientation in August with the latest phones and subscription plans for students.
 

How are the students billed?

All charges are assessed to the student's financial account and charged at the start of each semester. Please call One Stop at (310) 506-7999 for details related to addresses, fee schedules, etc. All financial information including charges, financial aid, and a "To-Do List" is available through your student's Wavenet account.
 

What do students do when they get sick?

Extensive medical services are available at the on-campus

Student Health Center

Monday through Friday, 8:00am-4:00pm.  A $70.00 fee is charged to the account when he/she has the first visit each semester.  Subsequent visits during the same semester range from $15-$50.  The Malibu Urgent Care Center is located in the city of Malibu near Cross Creek and PCH.  Additionally, students have access to a 24-hour medical hotline called PEP-RN. The number is 1-800-413-0848.  On Call for any medical attention after business hours--the University has trained response personnel to evaluate any health emergency.
 

What are students allowed to do to the room?

The rooms are furnished with a bed, dresser, desk, and bookcase.   These items must remain in the room.  Students are free to personalize and accessorize the rooms any way they want within the following guidelines: refrain from installing objects on the wall that leave a hole greater then 1/2 inch or use adhesive materials; the walls may not be painted in any way; do not bring fire hazards such as halogen lamps, candles, toasters, BBQs, etc; and do not use cinderblocks or furniture to loft the furniture. A coolwave (refrigerator/microwave unit) is available for purchase or rental.
 

What amenities are allowed in the room?

Individual microwave units, refrigerators or air conditioners are not allowed due to the strain on available electricity in each building.  Sparkletts water service may be arranged if students are interested.
 

Do students need a car?

The answer to this question is not easy.  Here are common responses from students when it comes up: It is easier to have a car--especially if you are used to having one, but there are ways to get rides with other students.  If you do not have a car and you want to get off campus (and you will want to) many students carpool if they want to go shopping in LA, Santa Monica, or through Malibu Canyon.  If you don't have a car, many first-year students don't,  you are more likely to become more connected to the Pepperdine community--especially if you live in Southern California and think you will go home often.  Parking is very tight, but it is free. Click here to check-out

Zipcar.

Students are able to rent cars by the hour.
 

What student jobs are offered?

Students can find off-campus and on-campus employment through the Student Employment Office as well as CareerSpace (available through your Wavenet account). On-campus jobs offered throughout the year include positions with Sodexo food service, Payson Library, the Pepperdine Call Center, and many more departments. Lots of students have financial aid packages (Federal Work Study) that require student employment each semester.  Whatever the reason, on-campus employment is not only a good source of additional income, but also a way to get connected to the Pepperdine community, to meet other students and professional staff members.
 

Generally, how much money do students need and what do they spend it on?

The amount of spending money your student needs varies among students. There are many things to do on campus or in the Los Angeles area that do not cost additional money.  The amount is also impacted by the financial responsibilities of the student--for example, will the student be responsible for paying a monthly phone bill or need cash for gas?  After that is determined, other frequent expenses include: recreational activities such as movies, occasional meals out, membership dues for Greek organizations that can range from $300-$500 each semester; some campus events, such as concerts or fundraisers, can create additional costs. There are many on-campus student employment opportunities available--please see the Student Employment office or CareerSpace (available through Wavenet).
 

What should she/he bring?

We recommend that students bring several items for their room/bathroom including: a lamp, surge protector/extension cord, a fan, mattress pad, hangers, a trash can, and a laundry basket/hamper among other items you think your student will use (avoid over-packing). Vacuums are provided in freshmen dorms and available upon request in other housing complexes. Cleaning services are provided in freshmen housing in common areas and bathrooms only. Deciding what to bring to college is not an easy task but you and your student will save lots of time by creating a check-list of essentials.
 

What is the mailing address for students?

Each student is assigned a campus mail box number and combination.  In the box students will receive letters and notification slips to pick up a package in the mailroom.  The mailing address is: 24255 Pacific Coast Highway
Campus Box # _____
Malibu, CA 90263
Students can ship items 30 days before arrival in August.  These items can be picked up Monday-Friday between the hours of 8:00am - 4:30pm
 

How safe is the campus/Malibu?

We are fortunate to be in a safe community, but it is always important to use good common sense regarding personal and property safety.  Our Department of Public Safety is available 24 hours per day to patrol and respond to security issues.  Students should always lock room doors, carry their key/ID card.  It is advisable to close windows when leaving the room.  Personal property should not be left unattended and cars should always be locked.  When walking at night or traveling in the Los Angeles area it is important to either have a companion and/or make sure someone is aware of your plans.  Pepperdine University maintains strict conduct expectations for students and guests that are in place for safety and privacy reasons, they include: designated visitation hours for members of the opposite sex and no alcohol allowed on the campus premises.
 

Describe the Greek system at Pepperdine University

About 30% of the students at Pepperdine participate in the Greek system which includes eight sororities and five fraternities. Since the university does not authorize alcohol on campus or at any university function, the stereotype of wild parties and drunkenness is not prevalent here. The organizations do not have individual houses.  Please see the Campus Life homepages for detailed information about the Greek system.
 

Where do students hang out?

Pepperdine has many highly competitive NCAA athletic teams and Intramural sport teams that provide a great opportunity for recreation.  The local beaches are popular during warmer weather for students, the 3rd Street Promenade in Santa Monica and Westwood are frequent evening destinations for movies and dining.  Students also go to The Commons in Calabasas and The Promenade in Westlake Village.
 

Where can they study?

Students have several options when it comes to study areas. 

Payson Library

on main campus is open 7 days a week with varied hours.  The student lounge in the Tyler Campus Center and the Howard A. White Center are both open 24 hours.
 

Where are students able to use computers and/or check e-mail?

Students have WiFi access all over campus and can connect to the internet using their Wavenet login information.  Each student bedroom has two phone lines and Ethernet jacks. There are computers as well as printers available for use in The Sandbar, Payson Library, and in the Center for Communication and Business. Printing is available to students for 6 cents/page payable only through Waves Global Cash which can be loaded onto your student's ID card online or at OneStop. For more information on this subject, please call the Seaver Technology Group at (310) 506-4191.
 

What kind of meal plan options can my student have?

Pepperdine offers four different meal plan levels : 650, 1500, 2000 and 2350. Students living in Standard Halls or Towers are required to purchase a minimum of 1500 points. Points no longer expire at the end of the semester - they may carry over year to year but the final decision on this is pending.
 

Where does my student go to put more money on their meal card?

Meal plan request forms can be found on the Housing & Residential Life website. Students can alternatively visit One Stop to  add money to their cards or visit http://webdeposit.pepperdine.edu
 

What tuition payment options are there?

The 2014-2015 tuition and room and board rates for Seaver College have been announced. Frequently asked questions regarding tuition can be found here.