Pepperdine Gifts and Apparel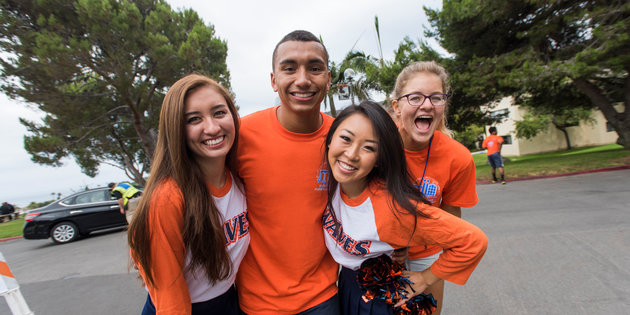 Looking for Pepperdine apparel, gifts, or other branded merchandise for your favorite Wave?
The links provided below offer you sources to buy Pepperdine and Waves-branded items for your student, family, or yourself!
Purchase apparel, gifts, and accessories from our eFollet Official Campus University Bookstore. Specializing in Pepperdine-branded clothing.
Showcase your son or daughter's exceptional academic achievement with pride! Our diploma frames are an excellent graduation gift to highlight their accomplishment and show how proud you are of them.
Choose from a varied selection of frames at super low prices, sold exclusively online through the Alumni Association. A portion of the proceeds are given back to the University.
Our Pepperdine Student Alumni Organization provides the opportunity for loved ones to purchase a variety of packages for their student.
Pepperdine Flowers is an on-campus flower delivery service right to your students dorm room - no going to the HAWC to pick them us! Whatever the occasion, send some love to your son or daughter.
Purchase authentic apparel that represents our championship athletic teams in our new athletics look. You can purchase these dynamic styles featuring the "PEPPERDINE WAVES" logo and specific team marks.
Pieces of There offers care packages with products from home. It's a perfect homesick cure for any student who is missing home (but won't admit it!). This gives you, as parents, an easy and fast way to send a piece of home to your student while they are at Pepperdine University.
Check out their subscription program to have care packages delivered automatically to your college student each semester! Use the discount code "pepperdineparent" for 10% off.
Order a floral gift for your student on a special occasion from this local flower design studio specializing in European and exotic designs, imported flowers, plants, and gourmet and fruit baskets.