Student Tech Support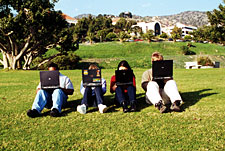 The Information Technology department provides a full range of technology services for Pepperdine University students. Each of the University's campuses features modern classrooms with digital projection and wireless internet access as well as general-use computer labs that provide wired and wireless connectivity, fee-based black-and-white and color printing, and scanning.
For all the details, check out our New Student Guide for full information about what to do before you arrive for class and what to keep in mind during your first week at Pepperdine.
---
IT Tools and Services Overview
Student Laptop Computers
Your laptop will be one of your most valuable tools throughout your entire career at Pepperdine University. To ensure that you arrive on campus ready for your first day of classes, Information Technology recommends that all students put their laptops through the Before You Arrive Tech Checklist. The checklist can also be found in the New Student Technology Guide above.
Student Tech Support - Tech Central
Tech Central, located on the Malibu Campus, is the one-stop shop for hands-on technology support for all students. Contact Tech Central at (310) 506-4811 or by email at TechCentral@pepperdine.edu. For more details about services and hours of operation, please visit pepperdine.edu/it and select "Student".
WaveNet
WaveNet gives current students access to all relevant student services such as class registration, course scheduling, and degree progress through the Student Center tab. In addition, students can utilize WaveNet to access library resources and University news, events, and announcements. Find out more about WaveNet.
Cyber Cafés and Computer Labs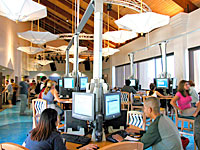 Students can use any of the computer labs located throughout campus, including Payson Library, Sandbar Café, Café Fresca, and Seaver College division-specific labs.
Computer and Internet Usage
Students may access Wi-Fi internet across most of campus, including many outdoor spaces. Wired internet connections are available by request depending on the campus location. Students do not need a separate Internet Service Provider. To ensure a safe, effective, and efficient technology environment using these shared network resources, all students are required to abide by Pepperdine's Computer and Network Responsible Usage Policy.