Getting Around Campus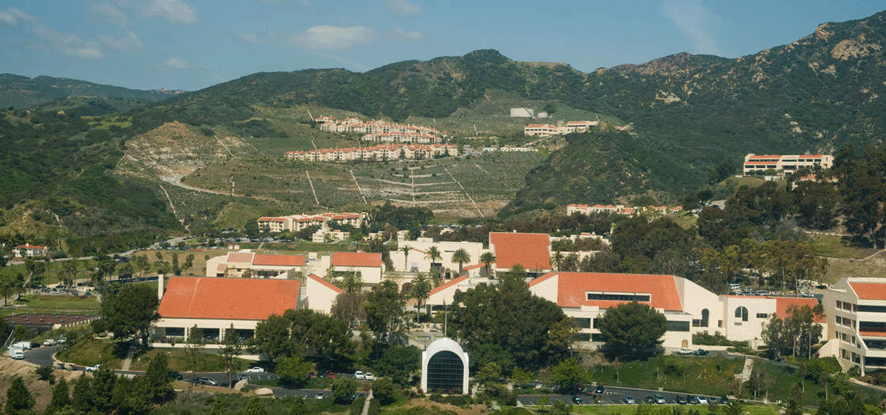 Nestled in the rolling foothills of the Santa Monica Mountains, Pepperdine University's Malibu campus commands a majestic view of the Pacific Ocean but can also pose some challenges for getting around campus. In anticipation of accessibility needs, we wanted to provide you with some helpful information before your arrival to campus.


Accessibility Map
You can visit our interactive campus map to find information on accessible parking as well as ramps / elevators on campus. On the bottom left click on "layers" and select "Accessible Parking Areas", "Accessible Paths", "Elevators", and/or "Wheelchair Ramps and Entrances." More detailed descriptions of each location can be found by clicking the location. Anyone with a DMV-issued DP placard and DP license plates may park in any accessible parking spots. The university is unauthorized to issue specialized permits for these areas.

Shuttles
We will have shuttles running around campus during orientation including a shuttle with a mobility lift. This shuttle's number is "Wave 5." You can track the location of the shuttles by downloading the Pepperdine App and clicking on the "Shuttle Tracker" icon. Click "Routes" and select either "Orange" or "Blue" to see all shuttles in real-time. Tip: Click the "B" or "O" icon to see the shuttle number (include "W5" or Wave 5 with the mobility lift). You can also talk to any of the shuttle drivers to radio the Wave 5 driver.


Wheelchairs
We have a limited number of wheelchairs and transport chairs available for use. You can request one before you arrive at wavesweekend@pepperdine.edu or when you arrive, please stop by the check in tent in Upper Mullin Town square to borrow a wheelchair.


Student Accessibility Needs
Students, if you are needing any accommodation based on accessibility please contact student.accessibility@pepperdine.edu to arrange and verify your request.
If you have any additional questions, feel free to contact us at 310.506.4201 or email wavesweekend@pepperdine.edu.