Spiritual Life on Campus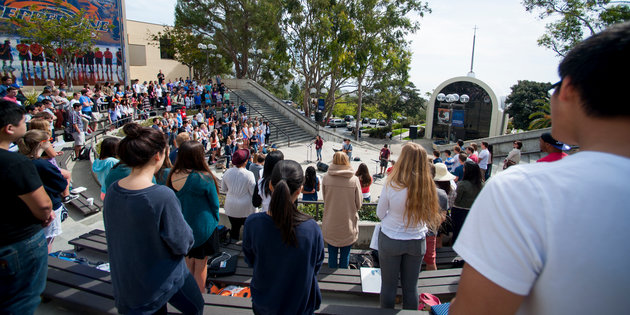 Your experience at Pepperdine will be unique because, as a Christian university, we are especially interested in providing an environment where you can grow in your faith. The spiritual life of our campus is very active, and you will find plenty of opportunities to grow spiritually.
On campus, you can join one of the many student-led Bible studies and worship times, or you can begin your own ministry through the Student-led Ministries Office. Our Convocation/Chapel program provides numerous opportunities to join together in community worship and to hear engaging speakers encourage and challenge us with God's word. Each residence hall has a Spiritual Life Advisor, a fellow student who is dedicated to responding to your spiritual needs — whether it's helping you get involved, praying for you, or just being a good listener. Our University Chaplain is also available for counseling or other spiritual needs.
We have several churches in our area with campus ministry programs, and we encourage you to become active in a local church. The University Church of Christ, which meets on campus, holds Sunday morning and evening services and sponsors a very popular Wednesday evening worship program called Collide. Local churches also have active student programs that plan Bible studies, retreats, and opportunities for worship and fellowship.
Wherever you are spiritually, we encourage you to take advantage of your Pepperdine years to grow closer to God and learn more about Christ and how his teachings will prepare you for a life of purpose, service, and leadership.