About New Student Orientation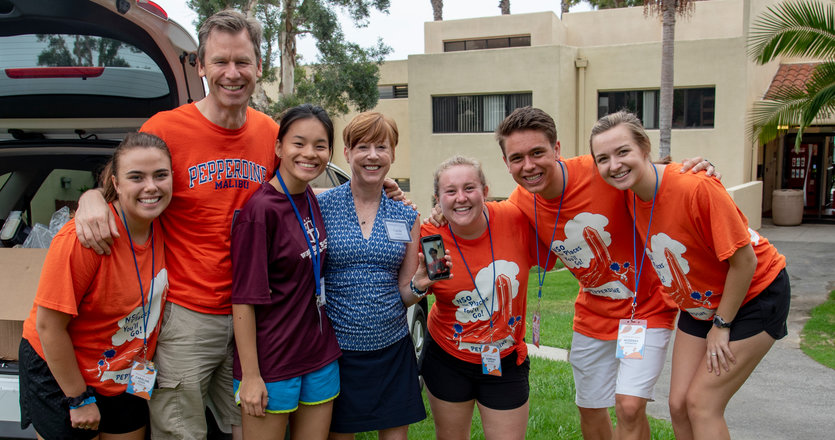 What is New Student Orientation?
New Student Orientation (NSO) is a program intentionally designed for incoming students and their family members. The program will include information on academics, student activities, student services, living on campus, international programs, and much more. University administrators, faculty, staff, and upper-division students will be available throughout the program to answer all of your questions about college life.
Who Attends New Student Orientation?
NSO is designed for new students who have enrolled at Seaver College and their parents or other family members. There are specific sessions designed for students and specific sessions for parents during NSO. The parent portion will end Thursday, August 25 at 3:00 PM and students will remain on campus until school starts on Monday, August 29. A majority of the students attending In-person NSO will be accompanied by one or more parents; however, there will be several students attending without parents. In addition, there will be faculty, staff, and current student leaders present to assist with answering any questions.
When Is New Student Orientation?
In-Person Orientation (for all new students & transfers): Tuesday, August 23 - Sunday, August 28, 2022
International Students Move-in and Check-in: Monday, August 22, 2022 (times will be posted later)
Domestic Students Move-in and Check-in: Tuesday, August 23, 2022 (times will be posted later)
Parents and Families: Parent portion is Tuesday, August 23 - Thursday, August 25 (programming ends around 3 PM). Family members arrive with students and can stay in a local hotel.
Check-in Location
In-person NSO will take place for all students on the Seaver College Malibu campus.
Check-in for International students on August 22 will be on Upper Mullin Town Square. Check-in for Domestic students on August 23 will be on Rho Parking Lot. See Interactive Campus Map for more information.
Once you check in, you will move into your residence hall if you are living on campus. Your Resident Advisor (RA) and Spiritual Life Advisor (SLA) will be there to meet you when you arrive at your residence hall. Also, Orientation Leaders will assist you with moving in your belongings. After moving in, you will need to relocate your car to one of the side streets or the Fieldhouse lot. You will not be able to leave your car in front of the residence hall.
Orientation Schedule
During NSO, student and parent schedules will overlap at times, but we also have specifically designed programming for students as well as parents. Please see below for the Fall NSO 2022 schedules.
Fall 2022 Student Schedule (full schedule will be posted prior to the start of NSO)
Fall 2022 Parent Schedule (full schedule will be posted prior to the start of NSO)
International students check-in and move into their Residence Halls
Domestic students check-in and move into their Residence Halls (all day)
Campus Tours offered
Lunch and dinner offered
President Jim Gash and First Lady Joline Gash welcome everyone in the evening
*Check-in times will be emailed during the summer.
Breakfast, lunch, and dinner offered
Student sessions all day, including academic life and advising, meet First-Year Seminar professors, meet with Divisions and Majors, music and theater auditions, evening activity in residence halls
Parent sessions all day, including learning about Pepperdine's rich history, academic support resources, student employment opportunities, health services, keeping students safe and well
*All day activities for both students and parents.
Breakfast and lunch offered (students will have a picnic dinner that night)
International Programs presentation for both students and parents
Waves Expo for students and parents to learn how students can get involved and succeed in college
Goodbye Blessing with parents and students
Students learn about physical, emotional, and spiritual health through Life Outside the Classroom
Movie on Alumni Park (for students)
*Parent's portion ends at 3 PM.
Multiple afternoon excursions to choose from
President's reception at their home
*For students
Yoga
Frosh Follies Rehearsals during the day and performance at night with a fun Aftermath
*For students
Worship service
Hike to the Cross
All-School Candlelight Gathering
*For students
Registration Fees
There is NO registration fee for incoming Seaver students. They will start using their meal points during NSO.
The registration fee for family members is $150 per person (12 and over). Here is the payment link.
This fee covers:
Meals and snack breaks during orientation
Entrance to all orientation sessions and athletic events
Orientation materials (orientation program, orientation app, Pepperdine t-shirt, and name tag).
Please note there is NO fee for family members who are only moving their student into the residence halls and not planning to stay for the entire Orientation.
Also, fees do not include transportation to and from the airport or lodging for parents.
Refund Policy
If you need to cancel any parent or guest NSO registration, please contact Student Activities at nso@pepperdine.edu or 310.506.4201 to request a refund.