Important Info for New Transfer Students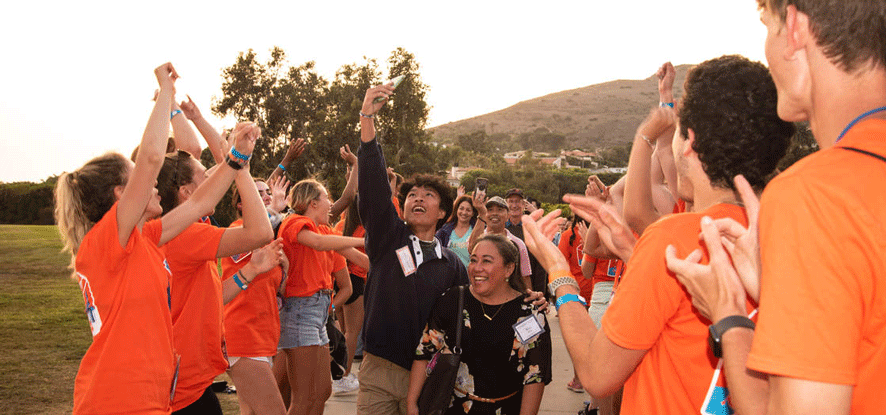 Dear Transfer Student,
We are excited to have you join our Waves Community. Before you arrive, be sure to follow the steps on the New Student Checklist. and follow us on Instagram, @pepperdinetransferalliance. On behalf of the transfer mentors and current transfer students, we look forward to welcoming you to your new home during New Student Orientation (NSO).
Danielle Minke, Director of Student Activities
Commonly Asked Questions
When do I get to select my classes?
During NSO, there will be a time for transfer students to meet with their divisions to select their courses.
Who do I contact about transferring units?
You can reach out to Onestop, onestop@pepperdine.edu, to connect with your advisor. Additionally, you can visit the Academic Advising website and find out who your advisor is based on your last name.
How do I get involved at Pepperdine?
Pepperdine has many ways for transfer students to get involved. One opportunity, specific to transfer students, is joining a transfer mentor family. Our transfer families meet throughout the semester and are led by our transfer mentors. Other ways to get involved on campus are attending the
Student Programming Board
events, joining a
fraternity or sorority
, participating in a
club
, and
more
.
Why do I need to attend Pepperdine's orientation?
Even though most of our transfers have attended orientation at a different university or college, we do require all new students to attend Pepperdine orientation to help them in the transition process. During orientation, transfer students will meet important staff and faculty who will be integral to their Pepperdine experience. Additionally, transfer students will meet with other transfer students and will be able to start creating a community on campus. There will be transfer specific events during orientation and throughout the year.
Do I have to live on-campus?
In congruence with Pepperdine's mission to establish a community that fosters social, academic, and spiritual growth, all new undergraduate residents are required to live on campus and have a meal plan for four semesters, and including all transfer residents who are required to live on campus for the entire academic year, with the exception of spring transfer residents who are required to live on campus for one semester (the spring term when they begin Pepperdine). For questions regarding housing, visit the housing
website
or contact
housing@pepperdine.edu
.
As a transfer student, am I required to take chapel?
Yes, transfer students are required to take chapel. First-year spring admits are required to live on campus for three semesters and, as such, will complete three semesters of chapel. Sophomore spring transfers are required to live on campus for one semester and, as such, will complete one semester of the "Sophomore Faith in Action" program. Transfer students who are not required to live on campus via the housing exemption process are exempt from chapel.