Meet the Student Ambassadors
2019-2020 Ambassadors
Jerry Calderon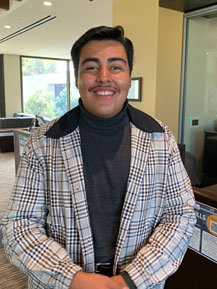 Hello, fellow first-generation students,
My name is Jerry Calderon, and it is with great pleasure that I welcome you to our first-gen community on campus. Having attended Pepperdine for only one year, I understand the struggles many of us go through to become acclimated with the rigorous coursework and affluent culture that comes with college life. Although such challenges exist, the Student Success Center has created the First Wave Program to establish a community specifically for first-generation students. With opportunities like first-gen events and academic mentoring, you are sure to find individuals who come from similar backgrounds like your own, allowing you to build a supportive community. Often times, first-generation students find themselves in a lonely headspace, as the transition to higher education may seem unclear. However, with an established first-gen community, you are sure to find your place here at Pepperdine. Once again, welcome to the family and let's ride the wave to a prosperous year!
Personal Bio
Growing up in a low-socioeconomic household, I understand how adversities such as poverty and poor health can shape the realities of many low-income people of color, especially in terms of psychological well-being. More often than not, such difficulties create barriers and have prevented many students, like me, from achieving their full academic potential. Infuriated and disappointed by the lack of institutional psychological support for children in low socioeconomic communities, I decided to study Psychology (pre-med) in hopes that one day I will be able to provide therapeutic resources to children suffering from a negative home life. Understanding that curiosity is the foundation for many breakthrough treatments known to save lives today, I appreciate that psychology encourages me to work from a point of wonder and not a set of rigid frameworks.
Furthermore, when I am not studying psychology, I immerse myself in several on-campus activities that challenge me to learn more about such inequalities and advocate for change such as the Student Government Association, First Wave Program, the Diversity and Inclusion Committee, and Inter-group Dialogue. Additionally, when I have free time, I enjoy running (even though I am slow), bicycle riding, reading, binge-watching TV shows, hanging out with friends, and most importantly spending time with my family. Overall, I love talking to new people and the unique stories you bring to the table.
Ambassador Office Hours
Shument Cheng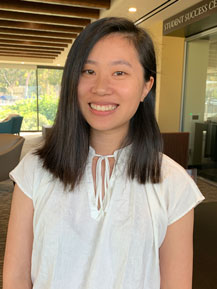 Congratulations on finishing high school and starting the next chapter of your journey here at Pepperdine! We are thrilled to meet you and be a part of your story. College can be a daunting step and you may be feeling nervous about starting your first year in an unfamiliar setting but that is completely normal and we are here to make your transition to college life as comfortable as possible! Welcome to Pepperdine, Class of 2023!
Personal Bio
My friends call me Shu! I was born and raised in San Francisco and am a senior double majoring in Psychology and Economics. I chose Pepperdine for its emphasis on community and academics as well as its great study abroad program. My experience in Lausanne, Switzerland was nothing short of eye-opening! In my free time, I like to enjoy Malibu's nature, visit museums, and explore the food scene in Los Angeles.
Ambassador Office Hours
Courtney Pereida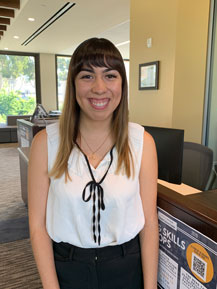 I would like to extend a warm welcome to all of the first generation students to the Pepperdine community. This community has allowed me to experience so much growth and I hope to do the same for all of you! Being a first generation student can often mean that we are used to doing everything ourselves and just figuring it out alone. However I hope that as ambassadors we can be sources to look to, if you ever need anything. Having a strong community and support system behind you is so valuable to achieving success. I cannot wait to meet everyone and to get to know all of you! Please never be afraid to reach out, as I would love to be a mentor and friend!
Personal Bio
Hello, my name is Courtney Pereida! I am from Chino Hills, California and grew up in the suburbs of Los Angeles. I am currently a junior majoring in political science with a minor in English Literature. I hope to continue on to law school after completing my undergraduate degree at Pepperdine. Pepperdine has allowed me to view a clear picture of what I want to achieve through many amazing opportunities. My freshman year I was apart of the Rotaract Club and a research assistant for my professor where I even contributed a page for his newest book. My sophomore year I studied in Washington, D.C. where I interned at the White House in the fall. These opportunities showed me the passion I have for volunteering and public service. This led me to my summer internship with the Los Angeles District Attorney's Office. These valuable experiences have all taught me so much and I cannot wait to share my experiences with everyone. When I am not interning or at school, you can always find me with my yorkie puppy named Prince!
Ambassador Office Hours