Meet the Student Ambassadors
Meet the Seaver College First Wave Ambassadors. Ambassadors are first-generation sophomore through senior students who connect with new first-generation students. If you'd like to connect with them, click on the link below.
2022 - 2023 Ambassadors
---
Stephanie Abad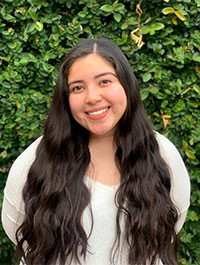 Hi Waves!
My name is Stephanie Abad and I am excited to be one of your First Wave Ambassadors for the 2022-2023 academic year. Welcome to the First Wave Family, we are so happy to have you! I know that the transition to college can be a difficult one in and of itself, but the added unknown that comes with being a first-generation student can make it even more difficult. I am no stranger to these challenges. As a proud first-generation student myself, I received my high school diploma in a car and began attending Seaver College virtually, all in 2020. That being said, I am eager to help those in a similar position as I was just a couple of years ago. My goal is to help you make the most of your college experience by providing resources that will help set you up for success. Being the first is no small feat, and you are making a difference for those who are to come. So, be proud of yourself, I know we are!
Personal Bio
Hello! As stated above, my name is Stephanie Abad. I am currently a junior majoring in Psychology and minoring in Social Work at Seaver College. I am the daughter of two strong-willed immigrants from El Salvador, meaning I am first-generation all around! Growing up as a low-socioeconomic student from the Northside of Long Beach, CA, I understand the struggles that these factors can present, especially when it comes to college. This is why I am committed to doing everything in my power to help the first-gen community here at Pepperdine feel welcomed and equipped for success.
Additionally, I am involved in various on-campus organizations, like the First Gen Club, Latinx Student Association, and the Jumpstart program. During my free time, I enjoy cooking, baking, hiking, discovering new coffee shops, and spending time with family and friends. Please feel free to reach out to me, I would love to connect with you.


Office Hours
Tuesday: 11:00 AM - 12:00 PM
---
Terra Hernandez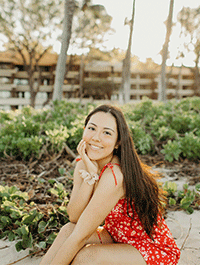 Greetings, Waves!
My name is Terra Hernandez, and I am honored to serve as one of Pepperdine University's First Wave Ambassadors for the 2022-2023 school year. I am a junior at Pepperdine, although it feels not too long ago that I was in your shoes, ready to start this new journey of self-growth and discovery. At the time, I remember feeling lost and overwhelmed with the challenges and choices I was presented with because my family members did not have the knowledge to give me advice and mentorship about the college experience. In addition, my entire freshman year was conducted in an online format due to COVID restrictions in Los Angeles. Because school was online, I had a hard time acclimating to college life and expectations while my interactions were limited to virtual classes in my childhood home. However, the first-generation community at Pepperdine provided me with a safe space to grow and answered any questions I had about the college experience. My goal as a First Wave Ambassador is to aid you in navigating your journey as a first-generation college student. I am here to provide support, whether you have a question about academic mentoring or how to balance school and other priorities. Please feel free to stop in, my door is always open!
Personal Bio
I am a junior at Pepperdine University's Seaver College, pursuing a double major in Political Science and Public Relations. I am from the Big Island of Hawaii. Growing up in Hawaii in a single-parent home has given me the experience to understand and relate to multiple socioeconomic backgrounds and educational levels, as well as multicultural environments and identities.
Aside from the first-generation community, I am active in many other groups on Pepperdine's campus. I write for The Graphic, our school's student-run newspaper; am a member of Pepperdine's Public Relations Student Society of America; am on the Debate Team; and previously served as the Freshman Liaison of the First-Generation Club on campus. I also studied abroad in Florence, Italy, during the summer of 2022. I love learning about other cultures and traveling, so if you are thinking about going abroad, I'd love to chat! Please feel free to reach out with any questions you might have. Welcome to the first-generation family!


Office Hours
---
Catherine Reyes-Higueros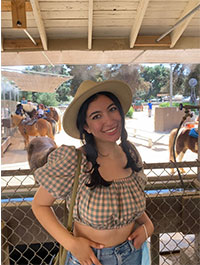 Greetings, Waves family! My name is Catherine Reyes-Higueros and I have the absolute pleasure and honor of being one of your First Wave Ambassadors for the 2022-23 school year. As a first-generation student, I am fully aware of how the journey toward attaining a higher education can be emotionally and mentally arduous. As many of you can probably resonate with, one of the biggest challenges we face as first-generation students stems from our lack of experience and absence of proper guidance. Nevertheless, it is through programs such as these in which we, as ambassadors, are given the opportunity to provide students such as yourself the help and support you need to succeed. That said, it is my desire to facilitate your academic journey here at Pepperdine with the knowledge I've obtained throughout the years and help you reach all of your goals, no matter what your story may be.
Personal Bio
Hello fellow Waves! As I had stated earlier, my name is Catherine Reyes-Higueros. I am currently a senior here at Pepperdine majoring in Communications Studies. As the first-born daughter of immigrant Latino parents, I have grown to recognize the importance of obtaining a higher education, viewing it as a powerful tool that has the ability to impact not only our lives, but the lives of those who surround us. Furthermore, my hopes as a communications major is to amplify the voices of the marginalized and advocate for change to make the world a better and more inclusive place for everyone, regardless of their socioeconomic status, race, and/or gender.
A few interesting facts about me: I transferred to Pepperdine from Santa Monica College about a year ago. Given my experience as a transfer student, I also serve as a transfer mentor here on campus. In this position, I have the pleasure of working with incoming transfer students, helping them acclimate and ease the anxiety that comes with transitioning from one institution to another.
Off campus, I'm a volunteer for several nonprofit organizations, including Reading to Kids and Los Angeles Team Mentoring, both of which focus on aiding and providing educational resources to children who pertain to low-income neighborhoods. Having the opportunity to form part of these programs when I was a student in middle school led me to grow a love for volunteering and giving back to my community. Other hobbies of mine include watching true crime documentaries, visiting botanical gardens, hiking, playing my violin, and going to the beach. I am an incredibly jovial person and eagerly look forward to being able to meet with you soon!


Office Hours
---
Aaliyah Pitts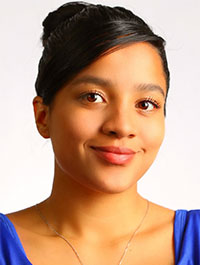 Welcome Waves,
My name is Aaliyah Pitts and I am delighted to be one of your First Wave Ambassadors! Congratulations on your acceptance; I am super excited that you will be joining the Pepperdine community! I can confidently say that this next chapter in your life will be incredibly rewarding despite its challenges. My piece of advice to you is to see your college experience as an amazing opportunity to explore your own interests, build new relationships, and consume knowledge. My goal is to support you through this journey, and I encourage you to reach out if you need anything or just want to chat!
Personal Bio
Hilo! I am Aaliyah and I am a senior at Seaver College! I am double-majoring in Psychology and Art, with a minor in Sociology! I have been very blessed to find many joys within Pepperdine, including taking exceptional courses, being a part of organizations on campus, and attending Board, RISE, and student performance events (which I recommend). I am an active member of the Black Student Association, Latinx Student Alliance, Pilipino American Student Association, and Pepperdine Art Club. Within these organizations, I have learned so much about myself and also met some of my favorite people. When I am not studying or in a club, you can find me making art, on an ellíptical, or spending time with friends! Feel free to ask me more about social science, art, clubs, or anything else that interests you!


Office Hours
Wednesday: 4:00 - 5:00 PM