Meet the Student Ambassadors
Meet the Seaver College First Wave Ambassadors. Ambassadors are first-generation sophomore through senior students who connect with new first-generation students. If you'd like to connect with them, click on the link below.
2020 - 2021 Ambassadors
---
Jerry Calderon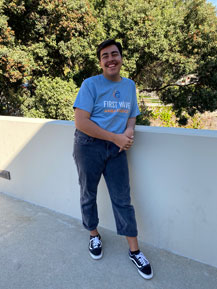 Hello friends!
In true NSO fashion, I thought I'd introduce myself: My name is Jerry Calderon. I am currently a junior at Seaver College, and I am a psychology (pre-med) and political science double-major with an English minor. Growing up as a low-socioeconomic student from the San Fernando/Santa Clarita Valley, I understand how adversities such as poverty and poor health can shape the realities of many low-income people of color, especially in terms of psychological well-being. More often than not, such difficulties create barriers and have prevented many students, like me, from achieving their full academic potential. Enraged and disappointed by the lack of institutional, psychological support for children in low socioeconomic communities, I aim to be a psychiatrist in hopes that one day I will be able to provide therapeutic resources to children suffering from a negative home life.
When I am not studying, I immerse myself in several on-campus activities that challenge me to learn about such inequalities and advocate for change, such as the Indigenous People's Club, Inter-Club Council, Latino Student Association, Student Government Association, the Diversity and Inclusion Committee, and conducting research with Dr. Frye. During my free time, I enjoy running, bicycle riding, reading, binge-watching TV shows, discovering new restaurants, hanging out with friends, and, most importantly, spending time with my family. Ultimately, I love talking to people and hearing the unique experiences and stories they bring to the table.
Personal Bio
Ayo Waves,
It is with great pleasure that I welcome you to our first-gen family on campus. In your shoes, just two years ago, I understand the struggles many of us go through to become acclimated with the rigorous coursework and affluent culture that comes with college life. As first-generation students, we spend most of our educational careers curating our own academic path as many of us lack mentorship and experience in the field. Because of this, we are frequently left in a lonely headspace seeking ways to make the transition from high school to college clearer. Luckily for us, the Student Success Center has created the First Wave Program to establish a community specifically for first-gen college students. With opportunities like academic mentoring, club convo, and first-generation celebration day, you are sure to obtain the tools needed to succeed in higher education while fostering friendships with individuals who come from similar backgrounds like your own. Having an already established first-gen community, you are sure to find your place here at Pepperdine. Once again, welcome to the family, and I can not wait to meet you!
Ambassador Contact Information
Umeesha D'Alwis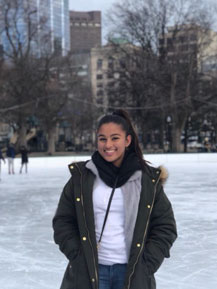 I'm Umeesha D'Alwis, a rising first-generation junior. Now, you must be wondering why Pepperdine selected me to be one of your First Wave Ambassadors, especially when we have such an incredible community of first-generation waves waiting to help at every turn already. Well, although I am a first-generation student (if you haven't caught that by now) who understands the difficulties that come with having a tougher socioeconomic background, a lack of prior knowledge on the college processes, and feelings of inadequacy for the future, I don't allow my past to hold me back.
Although I'm thankful for all the tough experiences I have had to pursue, I view Pepperdine as my golden ticket to my future. It's where I can learn from my mistakes, question different beliefs, and become the person I am meant to be. But I'm not alone in this journey. You and I are in this together. So, as one of your First Wave Ambassadors, I am excited to meet you, to welcome you to your future home, and to be a helping hand both in and out of school. The first-generation experience doesn't just stop outside the classroom walls, but it's an experience that strengthens you like no other. To the first-generation class of 2024, welcome and please don't hesitate to reach out!
Personal Bio
Umeesha D'Alwis is a junior from Cerritos, CA. She is pursuing a double major in philosophy and political science and government. Originally born in Colombo, Sri Lanka, Umeesha D'Alwis strives to use her immigrant background to achieve her version of the American Dream. Her parents, Ushan and Astrid D'Alwis have always been her most valuable supporters and she believes that her parents crossed the border so that she could, one day, cross the stage with her degree in-hand. From the very beginning, Umeesha has given her all to Pepperdine University. As a freshman, Umeesha was seen giving tours, hosting panel discussions, and assisting in admission events for thousands of Pepperdine visitors. She's the voice of the Pepperdine virtual tour and she spent her fall semester of sophomore year in Buenos Aires, Argentina where she solo-traveled every weekend, leading to a total of 7 countries and 24 cities visited.
Umeesha has also been involved in Alpha Kappa Psi, the professional business fraternity as her Pledge Class President and the American Enterprise Institute's Executive Council where she's met world—renowned politicians and ambassadors like John Cotton Richmond to discuss efforts against global trafficking. With COVID-19 disrupting her internship plans, she created her own internship program called LawyerUp to help over 100+ students from all over the world meet and connect with practicing attorneys, legal recruiters, and career coaches. In her free time, Umeesha is always dreaming and coding her next website, app, or project. As a member of PAC 31, she looks forward to meeting the Pepperdine faces "behind the scenes" who work to provide us with the best college experience.
Ambassador Contact Information
Hana Shim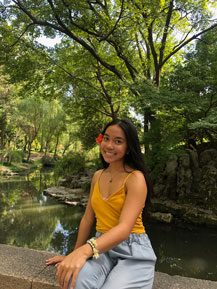 Warm welcome and congratulations!
Amidst chaos and adjustment, a calm presence will navigate you through complex situations. Not only to survive college under the absence of family and loved ones but to excel in this experience at a high level. I will use my two-year Pepperdine experience to connect to your unknown. I will help you and help you help our peers to become their best version of themselves. Simply put, I will support you.
The pillars of my commitment to you are founded in my appreciation for God, my parents, my instructors, administrators, peers, and most of all being on this beautiful Malibu campus. I highly encourage you to take advantage of the many resources and opportunities Pepperdine has to offer.
I am so excited to meet you! Please feel free to reach out to me anytime, any day.
Personal Bio
Hello! My name is Hana Shim. Born and raised in Oʻahu, Hawaiʻi. Native Hawaiian. Mathematics major. Economics minor. Aspiring actuarial scientist. Plant mom. Ocean lover. Self-proclaimed baker. First-generation college student.
My career vision includes, but not limited to, the use of my actuarial license to calculate and determine the best, low-risk scenario to help indigenous communities secure a land ownership system without the interference of foreign interests. In the fall of my sophomore year, I took a break from the Malibu sunsets and studied abroad in Shanghai, China. It was a once-in-a-lifetime opportunity to learn about my Chinese roots -- the culture, the language, the society. Culture and heritage are the catalysts to my academic success.
Additionally, I am the treasurer for Hawaiʻi Club, and head of the mathematics division chair for Beta Psi Omega, our University's STEM fraternity. When I'm back home you'll probably find me at the beach or in my parents' shop sewing a bag or a blouse.
Ambassador Contact Information