Meet the Student Ambassadors
Meet the Seaver College First Wave Ambassadors. Ambassadors are first-generation sophomore through senior students who connect with new first-generation students. If you'd like to connect with them, click on the link below.
2021 - 2022 Ambassadors
---
Adriana Baez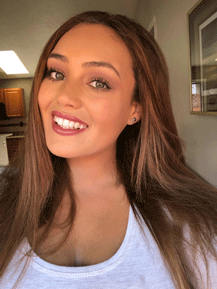 Nice to meet you, my name is Adriana Baez. I am a senior at Seaver College pursuing a Liberal Arts for Education degree while simultaneously obtaining a multi-subject teaching credential. I transferred into the Pepperdine family in January of 2020. What a year to transfer! I come from a working class family, growing up in Sonoma County, CA. I attended public school all my life upon making the decision to apply and transfer to Pepperdine. I come from a diverse background where both my parents are immigrants. I understand what it is like to be from a lower-socioeconomic status as well as some of the identity battles that come with being biracial. I have found that through my passion for teaching we can achieve inclusivity for all people. I want all students to understand that no matter what type of community, religion, race, or culture you are from, you have every right to pursue your dreams.
Personal Bio
Greetings! I would like to take this opportunity to say that I am so grateful for this experience to be a First Wave Ambassador. I have a dedication to wanting everyone to reach their highest potential and I am here to help along the way. I look forward to getting to know you!
Since transferring to Pepperdine I have truly found extracurriculars that better me as a student, person, and a future educator. I am involved in diversifying Pepperdine's curriculum through a mentorship program, a book club hosted by an organization called, MapSo, and I held a "Dreams For Inclusion" event over zoom where I helped advocate for inclusion in classrooms for children with disabilities. In my free time I enjoy spending it with my family, specifically my mom and younger sister. I do hot yoga and hot pilates, take walks, and read when I can. Grabbing coffee with friends is also something I love to do, it is always great to catch up with a nice cup of joe! Overall I am a social person who loves to learn and has a passion for teaching! Please feel free to reach out to me anytime!
Ambassador Contact Information
Halle Bowe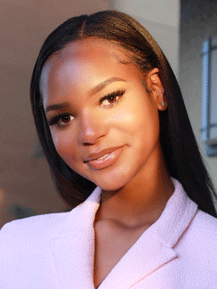 Greetings Waves!
My name is Halle Bowe and I am honored to be one of your First Wave Ambassadors for the 2021-2022 academic year. As a junior at Seaver College, I have without doubt experienced some of the challenges that come with being a first generation college student. I remember being in my freshman year, feeling extremely overwhelmed after transitioning from a small island in The Bahamas to the Los Angeles area. My goal is to help you navigate your way through college life and provide you with the resources and knowledge to be successful.
When outside the classroom, you can find me exploring Los Angeles, taking photos with friends, and trying new foods. I love to spark conversations involving topics such as social justice, financial literacy and self-improvement.
I am eager to get to know you, so please do not hesitate to reach out!
Personal Bio
Halle Bowe is a junior at Seaver College pursuing a major in Integrated Marketing Communications with a minor in Journalism. Halle is the first international First Wave Ambassador, hailing from Nassau, The Bahamas. Her international background helps her to lead with empathy and inclusivity.
She has been extensively involved in campus activities, previously serving as Sophomore Class President, Co-Host of the student broadcasted NewsWaves, and a member of the Diversity Equity and Inclusion Board. She is an active member of Black Student Association and Alpha Phi International. Halle is passionate about public speaking and uplifting the voices of those around her.
As a First Wave Ambassador, Halle aspires to help students easily transition into college at Pepperdine through offering academic and personal mentoring. She has experienced first-hand the difficulties First Generation students face with coursework, class scheduling, and social acclamation. Rest assured that she will work tirelessly to ensure that every First Generation student is provided with the resources they need to be successful at Seaver College.
Ambassador Contact Information
Jerry Calderon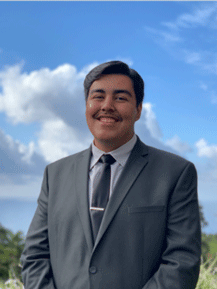 Ayo Waves,
My name is Jerry Calderon, and I am delighted to welcome you to our first-gen family on campus! In your shoes, just three years ago, I understand the struggles and difficulties many of us endure to become acclimated with the rigorous coursework and affluent culture that comes with higher education. Because many of us lack mentorship and experience in the field, we spend most of our educational careers curating our own academic paths. As a result, we're frequently left in a lonely headspace, trying to figure out how to make the transition from high school to college more seamless. Fortunately, the Student Success Center has established the First Wave Program to create a community specifically for first-generation college students. With opportunities like academic mentoring, club convo, and first-generation celebration day, you are sure to obtain the tools needed to succeed in higher education while fostering friendships with individuals who come from similar backgrounds to your own. Having an already established first-gen community, you are sure to find your place here at Pepperdine.
Once again, welcome to the family, and I can not wait to meet you!
Personal Bio
Hello friends!
As I stated above, my name is Jerry Calderon, and I am a senior at Seaver College, where I am double-majoring in Political Science and Psychology with an English minor. Growing up as a low-socioeconomic student from the San Fernando/Santa Clarita Valley, I understand how adversities such as poverty and poor health can shape the realities of many low-income people of color, especially in terms of psychological well-being. More often than not, such difficulties create barriers and have prevented many students, like me, from achieving their full academic potential. Outraged and disappointed by the lack of institutional, psychological support for children in low socioeconomic communities, I aspire to be a psychiatrist or lawyer, hoping that I will be able to provide therapeutic resources or systematic change to children suffering from negative home life.
When I am not studying, I immerse myself in several on-campus activities that challenge me to learn about such inequalities and advocate for change, such as the Indigenous People's Club, Inter-Club Council, Latino Student Association, the inaugural Seaver College Student Fellowship for Equity and Social Justice, Student Government Association, the Diversity and Inclusion Committee, and conducting research with Dr. Frye. During my free time, I enjoy running, bicycle riding, reading, binge-watching TV shows, discovering new restaurants, hanging out with friends, and, most importantly, spending time with my family. Ultimately, I love talking to people and hearing the unique experiences and stories they bring to the table.
Ambassador Contact Information
Stephanie Duensing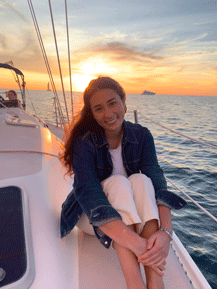 Welcome Waves!
I know the transition to college can be both an exciting and uncertain process for many first generation students, myself included. Having been in your position just a few years ago, I can definitely relate to the questions and challenges that you might come across. My biggest hope is to get to know you while also helping you discover and create a fulfilling Pepperdine experience. I congratulate you on joining the community of first generation college students and I encourage you to seek out help when you need it. I am committed to helping and supporting you as you begin to find your place here at Pepperdine.
I am looking forward to meeting you and please do not hesitate to reach out!
Personal Bio
Hello! My name is Stephanie Duensing. I am currently a senior who is pursuing a degree in psychology at Seaver College. I grew up in the suburbs of Chicago, but this past year my family and I moved to Indiana. My sophomore year I was fortunate enough to trade Pepperdine's Malibu campus for Heidelberg, Germany. As a person who is partially of German descent, it was an incredible opportunity to learn the German language and live in a country that my ancestors originated from. Travel and learning about new cultures have always been passions of mine so I am very grateful for the time I spent abroad.
Additionally, I am the president of the First Gen Club, where we work to organize events and meetings for first generation students. I hope to see you at some of them this year!
Ambassador Contact Information