Seaver Student Success Center
Empowering students throughout their academic career, the Seaver Student Success Center (SSC) offers a variety of services to ensure academic and personal success. From free tutoring, to individualized academic coaching, to monthly workshops, the SSC provides students with the tips, tools, and resources they need to succeed. Located on the 2nd floor of the Payson Library, stop by today to explore our services.
---
Tutoring Services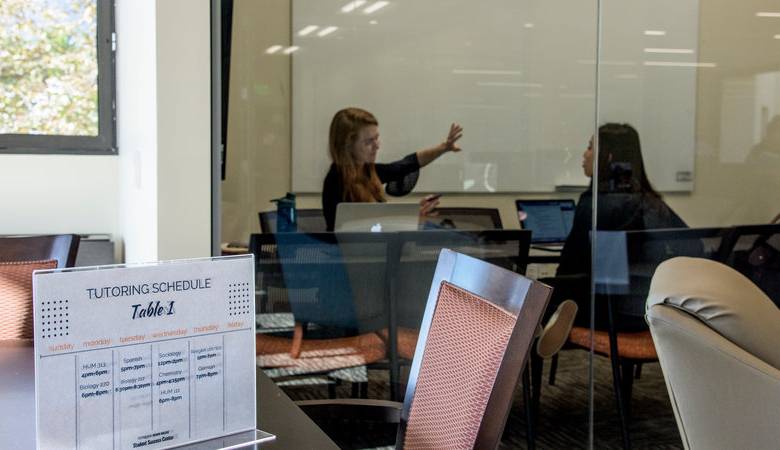 The Seaver Student Success Center offers a wide-range of tutoring services. Whether you have a specific question or need general clarity on a subject, our academic tutors can help. Appointments are not necessary, just stop by during the listed tutoring time.
Tutoring is currently offered for the following divisions:
Communication
Fine Arts
Humanities and Teacher Education
International Studies and Languages
Natural Science
Religion and Philosophy
Social Science
---
Academic Coaching
The Seaver Student Success Center offers individualized and personalized academic coaching designed to help students overcome possible success barriers. Alongside your coach, you will explore your personal learning style and will learn strategies to help you study smarter, create better studying habits, take more effective notes, and set achievable goals.

Our academic coaches are prepared to find strategies that work best in accordance with your personality. Our coaches can assist you in understanding your personality preferences, the strength of those preferences, and how they might impact your college experience.
---
Learning Skills Workshops
The Seaver Student Success Center hosts monthly workshops that are designed to help you achieve academic success. Each workshop has a limited amount of space so be sure to sign-up in advance to reserve your spot. Sign-ups can be completed in-person at the Student Success Center or using the links below.
Upcoming workshops focus on the following topics:
---
Digital Resources
There are an endless amount of mobile and web tools available to students but it can be difficult in determining which ones actually work. We have compiled our favorite digital resources that offer 24/7 support and have listed them below. From tutoring videos to study strategies to digital flashcards to time management, these resources offer support at your fingertips and will be a great addition to your study regime.