Pepperdine Waves Debate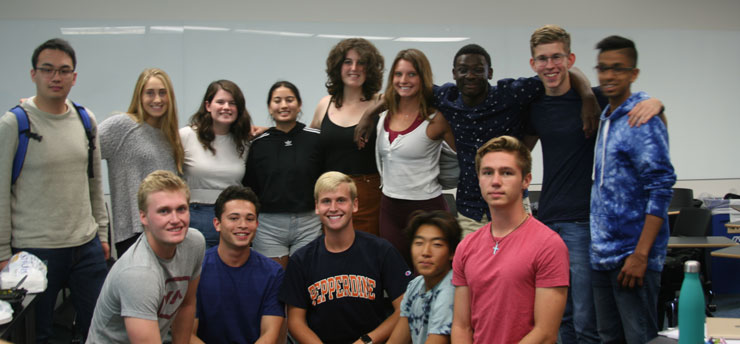 Pepperdine Waves Debate is a multifaceted program with a traveling competitive team, an on-campus programming series, an online global debate series, and a service component. It is an education-centered, service-minded, co-curricular program that encourages participants to exchange ideas, investigate perspectives, and strengthen relationships with their peers and God.
---
Participation and Scholarships
Waves Debate is open to all undergraduate students at Seaver College. Debate is an educational process that can benefit the entire undergraduate student body and, as a result, there are no minimum qualifications or auditions. Students are encouraged to participate in any or all aspects of Waves Debate, including leadership roles such as team president and committee chairs.
Students with no prior debate experience are encouraged to join the team and may earn a scholarship after establishing themselves as positive contributing members of the team during their first semester. Incoming scholarships are available to students who have participated and succeeded in British parliamentary debate.
Competitions and Outreach
The Waves Debate team participates in intercollegiate regional, national, and international competitions engaging in British parliamentary and civic-style debates. The team's Impacts program facilitates debate across the University's curriculum in various Pepperdine courses.
Recognized both locally and nationally for its contributions to the community, Let's Argue is an award-winning, student-led advocacy program. Let's Argue Elementary, led by student volunteers, is a subdivision of the enrichment program that supports local elementary schools. Waves debaters have the opportunity to spend one day a week training third, fourth, and fifth grade students in public speaking, debate, and advocacy. Upon request, Let's Argue also interacts with schools and organizations by hosting workshops, providing professional development, and volunteering as judges.
---
Connect With Waves Debate