Let's Argue Elementary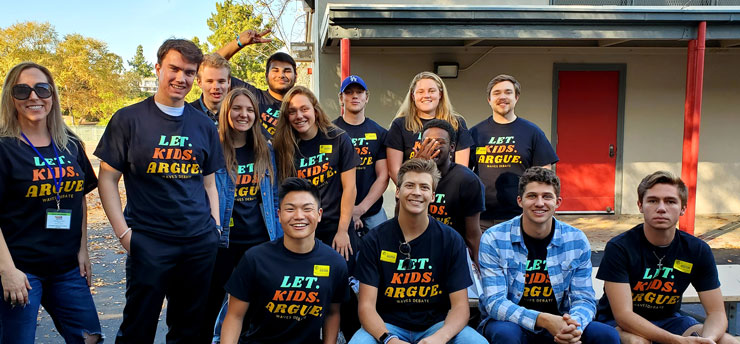 About Let's Argue Elementary
---
The Let's Argue Elementary program is designed to empower students in the third, fourth, and fifth grade to become advocates for themselves and their communities. It aims to provide them with the skills and confidence they need to craft logical and persuasive arguments, listen effectively, and think critically about different issues. The program is led by the University's director of debate and members of Waves Debate.
Let's Argue Elementary provides new students with basic public speaking and argument tips and offers advanced competitive debate for returning students. Students who have participated in either program have demonstrated a quantifiable increase in their ability to tell the difference between arguments and opinions, to evaluate source credibility, to speak in public, and to listen to conflicting opinions. Undergraduate students participating in the program have the opportunity to provide impactful community service and increase their own critical thinking, speaking, and persuasive skills. Currently this free enrichment course occurs on Tuesdays from 1:30–2:30 PM at Woodlake Elementary Community Charter School.
To participate with Let's Argue, please choose the category that best fits below.
Quick Facts
100%

Participants Reported Improved Confidence

100%

Participants Reported Improved Ability to Listen

100%

Participants Reported Improved Understanding of Argument
2019-2020 Schedule
November 12, 2019
November 19, 2019
December 3, 2019
January 21, 2020
January 28, 2020
February 4, 2020
February 11, 2020
February 18, 2020
February 25, 2020
March 10, 2020
March 17, 2020
March 24, 2020
Volunteer Forms
---
Additional Opportunities
---
Coffee Chats are informal dialogues about various relevant issues hosted by Waves Debate in the pursuit of greater understanding and communication between different perspectives on campus.
Classroom Debate Series: Impacts
Impacts was a program that was born in concept in early 2019, and put into effect the same fall. Partnering with professors, thus far primarily in the Communications Department, debaters provide a new approach to educating college students. Offering a variety of services, including demonstrating basic public speaking methods, debating course relevant topics to provide a multifaceted lens, and teaching students about British Parliamentary style debate, the program provides a wealth of information for professors to employ in their classes. This year, Waves Debate was able to host its first landmark debate in a COM 100 classroom, concerning the value of social media in advocacy, relationships, and self-image construction, among other issues.
Impacts Program Reviews
"I think that it is very interesting as we have never done this in class before. It is an unconventional structure that is very engaging. Then, the topic is very relevant [and] helps all of us re-evaluate our choices when spending time on social media."
"They were funny and presented their facts in a way that kept me engaged and listening."
"I enjoyed hearing different perspectives that I would have never thought about."
"I really enjoyed how passionate each debater was about his topic..."
"They were engaging, knowledgeable, and humorous."