News Programming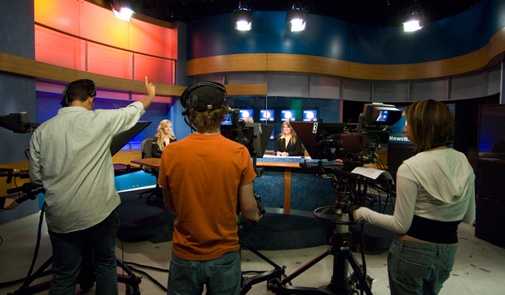 NewsWaves is a local television newscast produced twice a week by Pepperdine students. Most of the writers, camera people, producers, directors and on-air talent are majoring in journalism with a broadcast news emphasis. But each year students from other majors also help enlighten the Pepperdine campus and neighboring cities about events taking place within a 20 mile radius of campus. NewsWaves, in fact, is the only independent local television news coverage available that concentrates on the Malibu-Calabasas area. When the fires and floods that occasionally ravage Malibu begin wreaking havoc, our student reporters are often on the scene, providing additional reporting to the community.
Former NewsWave staffers work at all the major news outlets in the nation, including NBC, CBS, ABC, Fox, MSNBC and CNN. Others produce documentaries and public affairs programming seen by hundreds of thousands of people each year.
Our television production area boasts an HD state-of-the-art newsroom with the latest equipment and software.