Radio Station -KWVS
Ever heard of a SigAlert? If you've ever driven Los Angeles freeways you know the term well, and whenever you hear there's a SigAlert somewhere you avoid that traffic jam at all costs. Lloyd Sigmon, whose name adorns our radio station, coined that term. Today his memory lives on in The Lloyd Sigmon Radio Studio. It is here that students produce music and talk shows that help them learn to use this still vibrant form of media communication.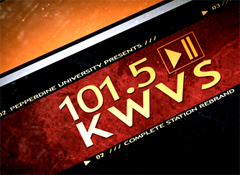 KWVS is an online streaming radio station programmed and staffed by students. It's a tradition on campus for groups of students, some media production majors, some just music aficionados, to start a radio program. All that's needed is an hour or two of training and any student can be a DJ or talk show host. Don't be surprised to sometimes hear a faculty member or administrator hosting a radio show, just for the fun of it! Listen to live or previously recorded shows at https://livestream.com/pepperdine/kwvs.
Contact Info
If you are interested in becoming a part of the radio station, please contact the station directors at kwvs@pepperdine.edu.