The Graphic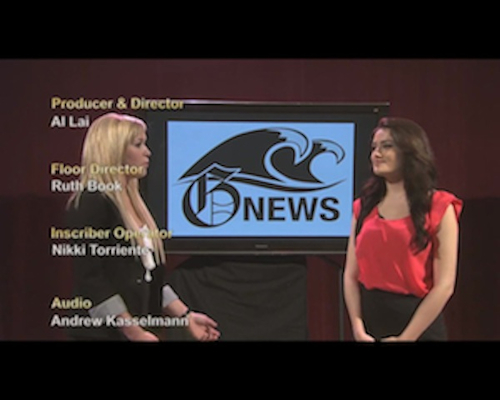 Pepperdine Graphic Media
Pepperdine Graphic Media (PGM) is Pepperdine University's student news group that covers the Pepperdine community through news, sports, entertainment, and opinion content. PGM includes:
Graphic (daily and in-depth multimedia news content)
GNews (weekly digital video update, podcasts)
Special Publications
Currents Magazine
Social Media Platforms
The Graphic
---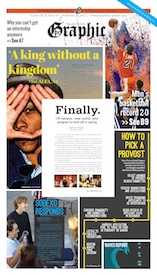 The Graphic is in the Associated Collegiate Press Hall of Fame and is Pepperdine University's oldest student organization—in the fall of 2017 the Graphic turned 80. It is a digital-first news publication that also publishes a weekly print edition. Reporting focuses on the campus (which includes four graduate campuses and six international campuses) and the City of Malibu. Students cover everything from wildfires and mudslides to student artists, concerts, campus protests and NCAA athletics. PGM has a staff of approximately 50 students each semester. Staff positions change each semester to create many learning experiences for student journalists. Positions include reporters, editors, video producers, photographers, artists, designers, social media producers and advertising sales representatives. Some positions are associated with scholarships.
Connect with The Graphic on Social Media
GNews
---
GNews is an online quick news update show that features content from the digital site and weekly newspaper with original interviews and packages concerning the Pepperdine and Malibu/LA community. Recently, the GNews brand expanded to include GSports. GNews helped expand and explain the complicated Voter's Guide for the general election.
Special Publications
---
PGM publishes the Housing Guide and Senior Edition each spring. These are advertising supplements that feature content geared toward a student audience. Additionally, PGM publishes one or two special editions that focus on a news topic of particular interest to the PGM audience. These have included the Race Edition, the Faith Edition, the Sex Edition and the Informer (which focused on Brexit, the presidential campaign, gun control and police violence).
Come Join Us
---
If you are interested in any part of Student Publications, please come join us for Our Big Week (OBW). We start planning the year and put together the first issue of the Graphic. OBW typically takes place in August, the week before classes begin. Participants are allowed to move into their dorms early!
Contact Info
Journalism Phone: 310.506.4311
Professor Elizabeth Smith, Professor and Director of Pepperdine Graphic Media
Elizabeth.Smith@pepperdine.edu
Courtenay Stallings, Assistant Director of Student Publications
Courtenay.Stallings@pepperdine.edu