Debate Blog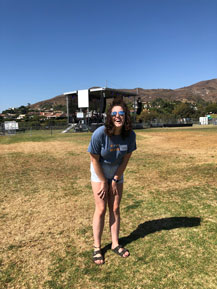 Joining the Team
By: Tiffany Hall
I remember the first time I heard of the debate team. It was after a fruitful google search that I came to see the Pepperdine specific debate page, listed with some basic contact information and some blurbs about the team. I found the instagram not long afterward, highlighting team members that I had heard of through various group chats and admired. Emails to the advisor proved to be inviting and helpful and talking to our president at the time made debate seem like a world of possibility. I was nervous, having only done debate at the high school level for two years, but suffice to say, it didn't take me long to figure out that the Waves Debate community was one I wanted to be a part of. I haven't regretted my decision for a moment since.
My participation started off slow, I can't deny. I attended practice meetings, tried to get to know people on the team, but really didn't know where I fit in the picture during the fall semester. However the slow growth was important. It got my back on my feet again and taught me some basic public speaking skills that had faded since my high school debate career. I learned the foundation for British Parliamentary, a similar but altogether different style than I had been used to, and found a passion for arguing against not one, not two, but three other teams at the same time. Just like the walk to the CCB from my dorm, this process wasn't easy, but it built up my confidence and skill in a way that can't be discounted. Going into Christmas break, I felt like I had finally gotten the hang of the basics and knew that when spring rolled around it was time for me to fully dive in.
I truly had the perfect opportunity to do this that spring semester in 2019. I finally had a class schedule that allowed me to go to Wednesday squad meetings, and truly that was the change that enabled me to see my full potential in Waves Debate. This isn't just a competitive team, and it never was. We had committee after committee of unique opportunities: classroom debates, on-campus debates, constitution building, and fundraising just to name a few. It wasn't just fate that led me to my preferred niche in this team, it was our director listing out the committee opportunities from her computer in the squad room that did. From the moment "on-campus programming" was introduced, I had a profound interest in it. What would a debate look like if it wasn't competitive? I couldn't begin to fathom, having only been exposed time and time again to the aggressive prop and opp style discussions that are propagated as "debate" in the societal discourse. But what if it could be more? As a new event began to take shape, something about a non-profit and maybe bullying (at the time I couldn't tell), I knew this was my chance to dive in. I was in for a lot more than I bargained for.
Within months, this idea developed into something beautiful and big—a discussion that resounded around campus and drew people from all parts of the community in to talk about one issue: bullying. Marketing, personalized letters, AV set-up, partnerships with organizations and departments, and formatting all led to something grander than I think anyone had envisioned, and I had been a part of it. To see the hard work the team had put in for the majority of spring semester culminate in not just a debate, but a communal dialogue left me speechless (which if you know any debater is a hard thing to do). Debate, it seems, is so much more than just two opposing sides. It allows for a bigger community to come and share ideas and come to the best one. To compare solutions and improve them. To share parts of ourselves and see how we grow as a result.
Now it's my second year on the team, and I'm leading the same committee that made me fall in love with this community. I couldn't be more honored to hold the position I do and to do the work I am doing. To think, I wouldn't have been able to find this passion if I hadn't found that webpage from the very start. So here I am, giving back to a new webpage that maybe you are reading to gauge whether you want to join. Let me tell you right now, that if you do choose to join this team, this family, it is so so worth it. I know that it is to me.