Currents Magazine
Student Journalism
Seaver students have the opportunity to work on our nationally acclaimed weekly newspaper the Graphic, online Graphic and Currents Magazine. Faculty advisers to these publications bring decades of experience as daily newspaper and magazine editors, in addition to providing students with expertise in communication law, in-depth reporting, ethics and religious journalism.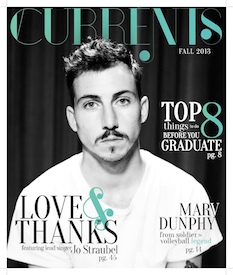 Currents
Each semester students interested in magazine journalism publish a glossy publication featuring new and interesting stories about Pepperdine students and the community that surrounds Pepperdine.
Please click the following links for a preview of past publication of Currents:
Currents Magazine, Spring 2014
Currents Magazine, Spring 2013
Nominated for the Pacemaker
Currents Magazine, Spring 2012
Winner of the Pacemaker
Come Join Us
If you are interested in any part of Student Publications, please come join us for Our Big Week (OBW). We start planning the year and put together the first issue of the Graphic. OBW typically takes place in August, the week before classes begin. Participants are allowed to move into their dorms early!
Contact Info
Journalism Phone: 310.506.4311
Professor Elizabeth Smith, Professor and Director of Student Publications
Elizabeth.Smith@pepperdine.edu
Courtenay Stallings, Assistant Director of Student Publications
Courtenay.Stallings@pepperdine.edu