Outstanding Student Leader: KWVS Radio
Andy Krawtz
"Radio opens the door for people to express themselves," said Andy Krawtz, KWVS radio station manager. "It gives them a platform to speak."
Krawtz, originally from Idaho, will be graduating this spring with a double major in religion and economics. Radio has always been his passion and Krawtz jumped on the opportunity to become involved with KWVS his freshman year.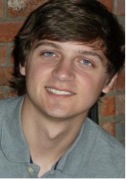 Besides working with radio, Krawtz also serves as the senior editor for Global Tides, Pepperdine's interdisciplinary undergraduate research journal. He is also a Regent Scholar and is one of the founding members of Ratio Christi. Krawtz currently works at New Hope Lutheran Church in Agoura Hills running a Sunday School for the youth and helping to lead worship services.
Upon graduation, Krawtz will be working towards a Master's Degree of Divinity and one day would like to become a professor. The skills that Pepperdine taught Krawtz led to many job and internship opportunities. He said his favorite part about working with radio stations is being able to share music with people. In the future, Krawtz would like to utilize his knowledge in a church setting by coordinating multimedia in worship and other events.
"I really like what you can do with it [radio]... it is a freeing experience," Krawtz said.
Krawtz finds inspiration in God, and has had the opportunity to explore his interests at Pepperdine University. Working for KWVS radio station the past four years has equipped Krawtz with invaluable tools he will be able to take into any career path.