Communication: Featured Alumni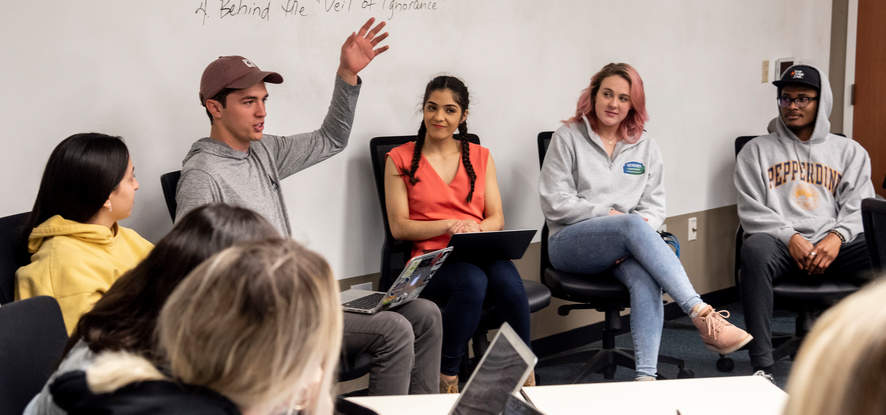 Thousands of successful professionals and civic leaders have studied Communication at Pepperdine. Each month, we highlight a few notable alumni who are making a difference.
Zach Rosenberg, a 1981 communication graduate, is the Chief Growth Officer at Horizon Media, specializing in growing Horizon's business along with its specialty divisions, Scout Sports and Event Marketing, Direct Marketing, Eden Road Trading and Columbus Media International. In 2009, Zach received the prestigious thinkLA's Leader of the Year award, the creative ad leader award. Zach recently returned to Pepperdine to speak in Dr. Ginger Rosenkrans' Advertising Copy & Layout class about his experiences and the industry.
Gregory Beauchamp, a 1994 Advertising graduate, started as an intern at Ground Zero in Los Angeles and in a few years advanced to the position of Design Director, overseeing design and art direction for clients like ESPN, Sega, Atlantis, E! Entertainment Networks and more. In 2005, Gregory partnered with Kirk Souder and formed Granite Pass, a project-based creative business working for agencies and brands where he was able to think of platforms for Coca-Cola, Sony, Converse, Google and many other global brands. Gregory and Kirk went on to make the documentary "Art & Copy", which became a finalist at the 2009 Sundance Film Festival and won an Emmy in 2011. Gregory currently splits his time between freelance creative projects, a burgeoning art career, and bringing positivity into the world. Gregory recently returned to Pepperdine to give a lecture to one of Dr. Rosenkrans' classes about his experiences and the industry.
Hollie (Muir) Packman former masters student is cofounder of Standing on Stone Ministries in Malibu and President at Packman and Associates communication consulting firm in Newbury Park. Hollie and Talitha Huff Phillips, CEO of Westside Pregnancy Clinic, joined students in Seaver College's fall 2012 SOS dinner and worship, an event Hollie helped found with her husband Daniel, and then shared with students their personal vocational narratives.
Alum Stefan Holt has been promoted to weekday anchor of WMAQ's morning news program. WMAQ is an NBC owned and operated station in Chicago.
Dr. Jennifer Standoval (B.A. and M.A. in Communication) is thriving in her new role as an assistant professor of communication at the University of Central Florida...former students Cory Geralts (B.A. Communication) and Margeaux Lippman (M.A. Communication) are enjoying their grad programs at Penn State and U of Washington, respectively. Kathy Kelley (M.A.) is enjoying her first year as an assistant professor at Fort Hays State in Kansas.
Cynthia Horner, a mid-1970s graduate, continues her career as the pre-eminent hip hop journalist in the nation. She is currently Editor-in-Chief of Hip Hop Weekly. She is the former editor of Right On! and was at one time the youngest editor of a national magazine in the United States. She has been recognized numerous times for her philanthropic work in the New York City area and has been a recipient of the Journalist of the Year award by the International Association of African-American Music.
Kelle Long, a 2011 broadcast journalism major, was recently hired as an assignment editor for NBC in Washington D.C. Lindsey Boerma, a 2010 broadcast journalism major, is now a reporter for CBS news.
2009 Pep graduates Lauren Parsekian and Molly Stroud started "Kind Campaign"
http://www.kindcampaign.com/
Pep alumni 'driven' to spread kindness, Pepperdine Graphic
1990 Pepperdine graduate Bill Weir co-hosts ABC's "Nightline" ABC News