Meet the Faculty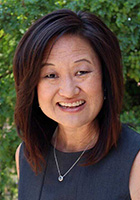 Stella Erbes
Associate Professor of Teacher Education
Division: Humanities/Teacher Education Division
Office: Cultural Arts Center (CAC) 310
Phone: (310) 506-4271
Fax: (310) 506-7307
E-mail: stella.erbes@pepperdine.edu

Ph.D., Educational Psychology, University of California Santa Barbara, 2002
M.A., Education, University of California Santa Barbara, 1999
M.A., Spanish, University of California Santa Barbara, 1995
B.A., Spanish, Pepperdine University, 1991, Cum Laude
Courses:
Educational Psychology
Instructional Design
First Year Seminar - Discovering the Secret to Inspirational Teaching
Advanced Teaching Methods
Clinical Experience 3
Educational Technology Workshop
Key Awards/Affiliations:
2017: Google Certified Educator Level I
2014: Recipient of Faculty Innovation in Technology and Learning Grant
Summer 2008, Finalist for the Howard A. White Award for Teaching Excellence, Pepperdine University.
2005-2006: Seaver College Named Fellowship
2004: Recognized Mentor for Seaver College Honor Wall for Fulbright Scholar, Ashley Foster
Member, American Educational Research Association
Member, Computer Using Educators
Member, Kappa Delta Pi Education Honor Society
Academic Interests:
Educational Technology
Undergraduate Research
Selected Works:
Books:
Erbes, S. (2017). Life lessons 101: Navigating the unwritten course of college. Dubuque, IA: Kendall Hunt Publishing.
Erbes, S.(2007). What teachers should know but textbooks don't show. Thousand Oaks, CA: Corwin Press.
Journal Articles:
Erbes, S., Lesky, S., & Myers, J. (2016). Teachers exploring mobile device integration: A case study of secondary teachers' responses to iPads in the classroom. Journal of Information Technology Education: Research, 15, 503-516.
Carr, K., Davis, S., Erbes, S., Fulmer, C., Kats, L., & Teetzel, M. (2013, Summer). Developing first year students as scholars. CUR Quarterly, 33(4), 8-15.
Erbes, S. & Klingel. A. (2012, July-Sept.). What can a student teacher learn from undergraduate research? Kappa Delta Pi Record Journal, 100-104.
Erbes, S, Folkerts, M., Gergis, C., Pederson, S., & Stivers. H. (2009). Understanding how cognitive psychology can inform and improve Spanish vocabulary acquisition in high school classrooms. Journal of Instructional Psychology, 37(2), 120-132.
Erbes, S. (2008). Interdisciplinary efforts used to assess research experiences for undergraduates. Council of Undergraduate Research Quarterly, 29(2), 34-42.
Performances:
April 2018. "Transforming Teaching Educational Psychology Using Technological Tools." Poster presented at the annual meeting of the American Educational Research Association. New York, NY.
2017, June. "How We Remember and How We Forget: The Neuroscience of Memory and Some Applications." Paper presented at the Christian Scholars' Conference, Nashville, TN.
2016, May. "From Traditional to Technological: Transforming an Instructional Design Course Using Sakai." Paper presented at the annual Sakai/Apereo Conference, New York, NY.
June 2015. "Setting the Stage." Summer Faculty Professional Development Series. Pepperdine University, Malibu, CA.
July 2014. "Paving the Path to Professional Development: Showcase Portfolios for Teacher Education." Paper presented at the Association for Authentic, Experiential and Evidence-Based Learning (AAEEBL) Conference. Boston, MA.
October 2013. "Awakening the 21st Century Educator to 21st Century Tools." Fall Computer Using Educators (CUE) Conference. Napa Valley, CA.
June 2013. Sakai/Apereo Conference, San Diego, CA. Pre-conference workshop- "Teaching with Sakai from the Ground Up." Co-presented with Alan Regan, Landon Phillips, and Varun Khanna.
June 2012: "An Introduction to Sakai for New Faculty", session presented at the annual Sakai Conference, Atlanta, GA
April 2012: Keynote Speaker, Loqui Event: A Celebration of Diversity and Inclusive Excellence, Pepperdine University, Malibu, CA (http://youtu.be/euuuuns9QwI)
March 2011: "Greatest Hits CUE 2006-2010 & Imagining the Future", session presented at the Computer Using Educators (CUE) Conference in Palm Springs, CA
November 2010. "Wonders of the Web: Web Resources for Secondary Math Teachers." Association of Christian Schools International, Anaheim, CA.
Fall 2009: "The Scholarship of Teaching", session presented at the annual Teaching Professor Conference, Boston, MA