Meet the Faculty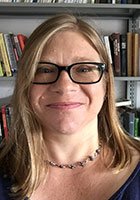 Sharyl Corrado
Assistant Professor of History
Division: Humanities/Teacher Education Division
Office: Cultural Arts Center (CAC) 110
Phone: (310) 506-4549
E-mail: sharyl.corrado@pepperdine.edu

Ph.D., History, University of Illinois at Urbana-Champaign, 2010
M.A., Educational Ministries, Wheaton College, 2000
B.A., Linguistics, Northwestern University, 1993, with departmental honors
Courses:
Nineteenth-Century Europe
Twentieth-Century Europe
Western Culture III
Topics in Global History: Imperialism
Key Awards/Affiliations:
Postdoctoral Research Fellowship Japan Society for the Promotion of Science. In residence at the Slavic Research Center of Hokkaido University, Sapporo, Japan. June-Dec. 2012
Fulbright-Hays Doctoral Dissertation Research Abroad Award (DDRA), 2004-2005
Sakhalin Department of Culture award for contributions to the study of Sakhalin Island, Yuzhno-Sakhalinsk, Russia, 2005
Title VI Foreign Language and Area Studies (FLAS) Fellowship in Russian and East European Studies, 2000-2001, 2001-2002, 2003-2004
American Historical Association
Association for Slavic, East European, and Eurasian Studies
Conference on Faith and History
Academic Interests:
Cross-cultural encounters
Modern European History
Popular Religion
Russian History
Selected Works:
"The Highest Limit of Statesmanship": Ritterian Geography and Russian Exploration of the Amur River Basin, 1849-1853," Sibirica: Journal of Siberian Studies 14, no. 2 (Summer 2015), 1-28.
"'Sakhalin -- Ostrov!': Meniaiushchiesia Myslennye Karty Priamur'ia, 1848-1855 gg." ["Sakhalin is an Island!": The Changing Mental Maps of the Priamur, 1848-1855], Rossiia i ATR 2014, no. 4, 109-119. (in Russian) Available here
Review of On the Edge: Baptists and Other Free Church Evangelicals in Tsarist Russia, 1855-1917, by Albert W. Wardin, Jr. East-West Church & Ministry Report 22, no. 4 (Fall 2014). Available here
"A Land Divided: Sakhalin and the Amur Expedition of G.I. Nevel'skoi, 1848-1855," Journal of Historical Geography 45 (July 2014), 70-81.
"Sakhalinskaia katorga i mezhdunarodnaia tiuremnaia reforma" [Sakhalin Penal Servitude and International Prison Reform]. In A.P. Chekhov i Sakhalin--vzgliad iz XXI-go stoletiia [A.P. Chekhov and Sakhalin--A View from the 21st Century], ed. M.S. Vysokov, 35-42. Yuzhno-Sakhalinsk, Russia, 2011.
Review of Russian America: An Overseas Colony of a Continental Empire, 1804-1867, by Ilya Vinkovetsky. Ab Imperio (August 2012)
Co-edited with Toivo Pilli. Eastern European Baptist History: New Perspectives. Prague: International Baptist Theological Seminary, 2007
"The Gospel in Society: Pashkovite Social Outreach in Late Imperial Russia." In Eastern European Baptist History: New Perspectives, ed. by Sharyl Corrado and Toivo Pilli, 52-70. Prague: IBTS, 2007
Filosofiia sluzheniia polkovnika V.A. Pashkova [The Philosophy of Ministry of Colonel V.A. Pashkov]. Translated by M.S. Karetnikova. St. Petersburg: Bibliia dlia vsekh, 2005
"Ritual, Power, and Reality in Early Russian Culture: A Critical Look at Recent Historiography," Fides et Historia 37 (Spring 2005): 1-16.
Review of California Through Russian Eyes, 1806-1848, comp., trans., and ed. by James R. Gibson. Historical Geography: An Annual Journal of Research, Commentary, and Reviews 42 (2014).
Review of Communities of the Converted: Ukrainians and Global Evangelism, by Catherine Wanner. Religion, State, and Society 37 (August 2009).
Review of Sacred Stories: Religion and Spirituality in Modern Russia, ed. by Mark D. Steinberg and Heather J. Coleman. Religion in Eastern Europe 27 (February 2007).
Review of Gubernatory Sakhalina [Governors of Sakhalin], ed. by A.I. Kostanov. Sibirica: the Journal of Siberian Studies 4 (October 2004).
Review of Through Orthodox Eyes: Russian Missionary Narratives of Travels to the Dena'ina and Ahtna, 1850s-1930s, trans. and ed. by Andrei A. Znamenski. Fides et Historia 37 (Spring 2005).