Our Faculty and Staff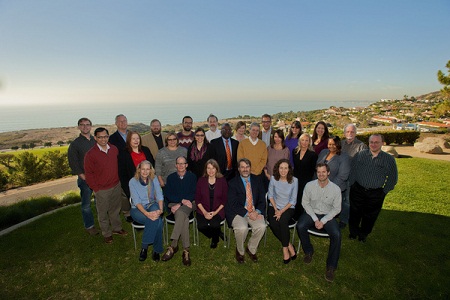 Our thirty-nine full time faculty members are all outstanding scholars in their fields; they are extremely well-prepared in their academic areas having earned their Ph.D.s from prestigious universities. What is most important, however, is that our faculty is dedicated to teaching. Our professors will help you to become the best person you are capable of becoming personally as well as in your academic specialty.
Many of our faculty have been awarded the prestigious Howard A. White Teaching Award, given to professors chosen by Seaver undergraduates each year. Recent winners include: Dr. Jeff Banks (Social Action and Justice), Dr. Don Marshall (Great Books), Dr. Paul J. Contino (Great Books), Dr. Caleb Clanton (Philosophy), and Dr. Victoria Myers (English). The Humanities and Teacher Education Division also houses the Brett Love Teaching Award for exceptional teaching by non full time professors; past winners include: Dr. John Peterson, Dr. Leslie Kreiner, Dr. Lisa Smith, and Dr. Theresa Flynn.
All of the current Fulbright Award appointees on the Seaver College faculty are to be found in the Humanities and Teacher Education Division: Dr. David Baird (History, Dean Emeritus, Fulbright Scholar); Dr. Darlene Rivas (History, Fulbright Specialist); Dr. Frank Novak (English, Fulbright Scholar); Dr. Maire Mullins (English, Fulbright Scholar); Dr. Bryan Givens (History, Fulbright student/research); Dr. Sharyl Corrado (History, Fulbright –Hays); and Dr. Ed Larson (History, John Adams Chair). This year, three undergraduate students from the HUTE Division were chosen as Fulbright recipients and will be studying and teaching English in Macedonia, Korea, and Spain.
Our faculty includes a Pulitzer prize winning Historian (Dr. Ed Larson); a renowned Shakespeare scholar (Dr. Cyndia Clegg); a poet who recently was awarded a National Endowment of the Arts grant (Dr. John Struloeff), and includes many other scholars who are widely published and active in their disciplines. We encourage students to engage in publication and research, in internships related to their field of study, and in service learning projects that will impact underrepresented communities.