Welcome from the HUTE Divisional Dean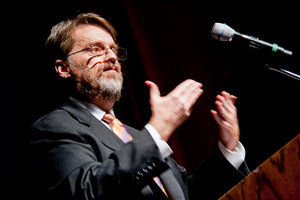 This has been a very busy year in the Humanities and Teacher Education Division! Our majors continue to flourish as our students recognize the value of a strong liberal arts education that educates the whole person by fostering intellectual curiosity, cultural literacy, and a commitment to social justice. We are especially proud to celebrate the twenty-fifth anniversary of the Great Books program, the jewel in the crown of Seaver College.
If you are interested in finding out more about internship opportunities, our Randall internship program provides students who are majoring in Creative Writing, English, History, and Film Studies with internship opportunities in the greater Los Angeles area. Contact Dr. John Peterson for more information about this program.
This year we will continue to offer our "HUTE Symposium" - a series that gathers students and faculty in English, Philosophy, History, the Liberal Arts, and Teacher Education to join in a convivial conversation on a different thought-provoking topic each month. Members of the wider University and local communities are invited to join our discussions as well. Our fall roster of speakers will be announced soon, and posted online.
We have developed a pre-law brochure for our majors who may be in interested in Law School. Please contact Dr. Mason Marshall for more information.
Our faculty works closely with students who wish to pursue a Fulbright or a postbaccalaureate award. Last year, three students from the HUTE Division were selected as Fulbright recipients. Please contact me (Dr. Michael Ditmore) for further information about these opportunities.
Finally, we would like to reach out to our ALUMNI. If you are an ALUMNI of Pepperdine and of our programs, please contact our Division and let us know what you are doing! Our faculty would love to hear from you.
Dr. Michael Ditmore
Divisional Dean of Humanities and Teacher Education
Professor of English
Pepperdine University