About The HUTE Division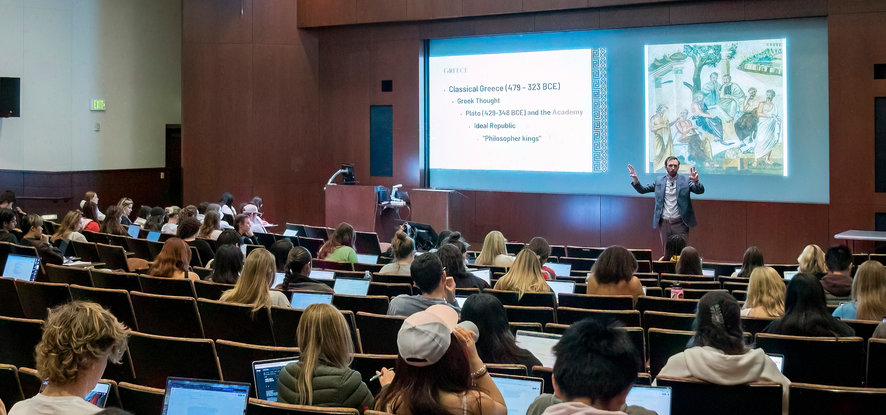 5 MAJORS | 12 MINORS | 3 SPECIAL PROGRAMS | 1 GRADUATE PROGRAM
1 DIVISION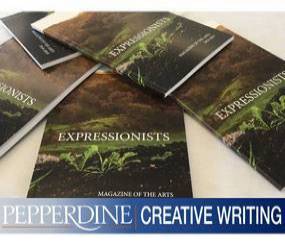 Creative Writing - The creative writing major is primarily designed to prepare students for inspiring careers as professional writers of screen and television, the novel, poetry, and the short story. Through intensive practice in our three-tiered creative writing sequence, students hone not only their skills but their understanding of the expectations and challenges of writing and publishing. Courses in this major cover topics such as poetry, fiction/novel writing, screenwriting, and writing for children and young adults. All instructors are experienced, published writers. The major also prepares students for advanced graduate degrees in creative writing, literature, and other fields, as well as a variety of professional careers.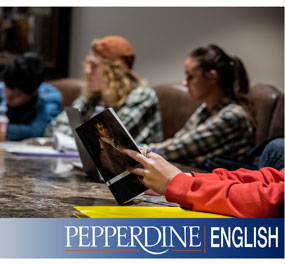 English - There are three major concentrations within the English major: 1) Literature, 2) Writing, and 3) Education. Students regularly work with primary source materials in Special Collections, including medieval manuscripts and first editions of rare books. English majors regularly participate in undergraduate research and have presented their work at professional conferences and published their projects in academic journals. Alumni work for notable agencies like the FBI and reputable publishing companies like SAGE. Students also move on to graduate school to study education (Stanford, USC, and Vanderbilt), Comparative Literature (UCLA), and law (University of Chicago, UCLA). Many have been awarded the prestigious Fulbright scholarship to teach abroad in places like Greece.
Pepperdine University shelters the Eta Psi chapter of Sigma Tau Delta, the international English honor society. Membership for students and faculty is a recognition of excellence in scholarship and creativity. The Pepperdine chapter sponsors activities related to the creative interests, scholarly and professional concerns, and service commitments of students of English. Students have the opportunity to submit creative writing and essays to the national society's two journals.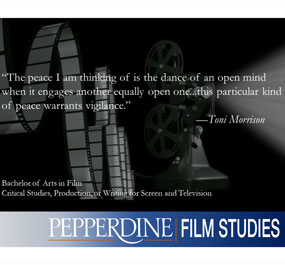 Film - In the Seaver College film program, students will study the history of this art form and the ways in which it touches the various aspects of our individual and communal lives—aesthetic, spiritual, political, national, racial, and economic. The film program enjoys a unique relationship with the Hollywood film community and with industry professionals in the Malibu area. Qualified majors have the opportunity to intern at one of the many television or film production companies in the greater Los Angeles area. This major offers 3 tracks:
1. Critical Studies 2. Production 3. Writing for Screen and Television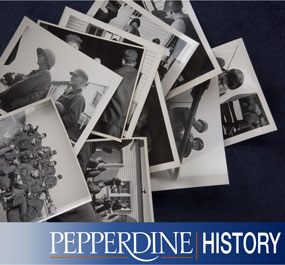 History - The history major is designed to help students develop an understanding of the complex factors that have produced the civilization of the present century. Such an understanding is necessary for becoming responsible citizens in our society. A history major also offers a valuable background for many careers including government service, law, education, library work, business, and journalism. Most international programs offer 1-2 upper-division history electives. Students complete their senior thesis over the course of their final year.
History majors will find a chapter of Phi Alpha Theta, the international honorary society in history, in the Humanities and Teacher Education Division. Membership for faculty and students alike is a recognition of excellence in scholarship. The activities include participation in various professional gatherings and other events designed for the serious student of history. Members receive the society's journal, The Historian.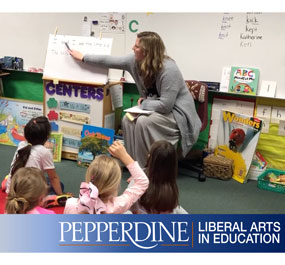 Liberal Studies for Education - The liberal studies for education major provides a cross-disciplinary major for students desiring a broad academic experience, and it provides a robust academic background for students interested in pursuing a multiple subject (elementary) teaching credential. The liberal studies for education major may be completed alone, or majors may choose to earn a teaching credential along with the major by completing the 34-unit teacher preparation program. Students can complete their bachelor's degree and their teaching credential in 4 to 4 ½ years. Students who earn the liberal studies for education major develop a deep understanding of the range of knowledge that is important for multiple-subject teaching. The major addresses the following academic areas: language, fine arts, mathematics, human development, science, and history/social science.
A signature feature of our teacher education program is that students complete 750 hours of clinical practice in local K-12 schools. Alumni go on to teach both domestically and internationally, and many have been honored with the "Teacher of the Year" Award at their schools.
The Humanities and Teacher Education Division includes a chapter of Kappa Delta Pi, the international professional honor society in education. Members are offered opportunities for professional and scholarly development, networking, and service.
Students have the opportunity to add to their major in one of the humanities disciplines and minor in one (or more) of the following: Creative Writing, English, Film, History, and Writing; Interdisciplinary Minors - African American Studies, Digital Humanities, Ethnic Studies, Great Books, Intercultural Studies, Sustainability, Women's and Gender Studies. In consultation with their advisors, students may design a rich and varied undergraduate experience.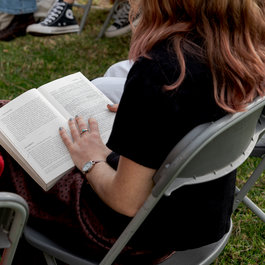 Great Books Colloquium - The Great Books Colloquium is a four-course sequence on masterpieces of Western civilization. The purpose of the colloquium is to engage students in close, critical reading and small-group discussions of selected works from the time of the Greeks to the modern day. The courses are conducted by discussion under the leadership of a qualified professor dedicated to fostering open, shared, and rigorous inquiry.
Students should remain in the colloquium for the entire series of seminars. Students completing all four Great Books courses receive credit for the First-Year seminar, two courses from Group A: ENG 101, upper-division literature, and one course in the Humanities Sequence (HUM 111, HUM 212, or HUM 313); and two courses from Group B: REL 301, COM 180, POSC 104, and SOC 200. Students completing Great Books I receive credit for First-Year Seminar, even if they choose not to complete the sequence. Students who do not complete the sequence but complete a course or courses beyond Great Books I will receive unit credit toward graduation, but no General Education credit besides the First-Year Seminar.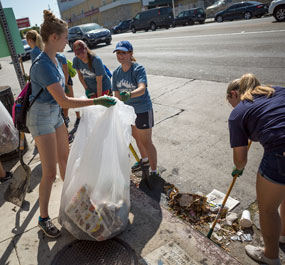 Social Action and Justice (SAAJ) - The Social Action and Justice (SAAJ) Colloquium is a four-course, interdisciplinary program focused on issues of social justice such as human rights, wealth and poverty, the environment, the interplay of religion and culture, and the role of media in shaping social movements. The colloquium includes historical, theoretical, and practical perspectives on social issues, providing knowledge and opportunities for social action to students interested in a variety of vocations. The colloquium encourages students to reflect on how their choices of world view and vocation will affect their lives and society in the 21st century. Students engage in service and experiential learning assignments in their courses.
Students who complete the four-semester SAAJ sequence will receive credit for the following general education requirements: first-year seminar, ENG 101, literature, and REL 301. If students drop out of the colloquium before finishing the four-course sequence, they will receive unit credit toward graduation but will not have fulfilled the above-named general education requirements. SAAJ 123 may be fulfilled by a course in the student's major, but only one major course may fulfill the SAAJ requirements. No student may fulfill SAAJ 123 with a GE course.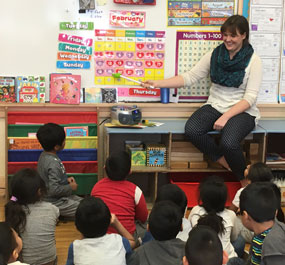 Elementary & Secondary Teacher Credential Programs - The objective of the Seaver teacher education program is to provide teacher candidates with the professional preparation and clinical experiences necessary to qualify them for the SB2042 Multiple Subject Preliminary Teaching Credential or the SB2042 Single Subject Preliminary Teaching Credential. The teaching credential program at Seaver is integrated into the bachelor's degree so that a candidate can work toward a bachelor's degree and a teaching credential simultaneously. Completing a bachelor's degree and the teacher education program generally requires eight or nine semesters; therefore, careful attention should be given to course scheduling. The credential programs were developed in compliance with the requirements of the California Commission on Teacher Credentialing (CTC). The SB2042 credential issued by CTC includes English Learner authorization.
Master of Fine Arts in Screenwriting
Mission Statement: We exist to train, nurture, and support screenwriters as they work to make a positive global impact.
Program Philosophy: Storyteller as Cultural Leader.
Personal attention in small writing workshops
All classes taught by Hollywood pros
Students can complete the degree in two years
Write TV shows, win contests and film festivals, secure representation, see their feature screenplays produced, and work in other aspects of the industry as producers, directors, editors, consultants, development executives, and showrunners.