W. David Baird Distinguished Lecture Series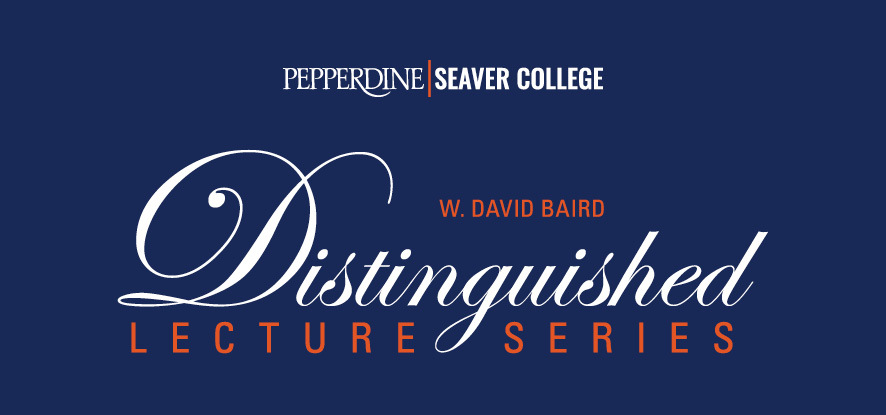 Pepperdine University's Seaver College of Letters, Arts, and Sciences is proud to present the W. David Baird Distinguished Lecture Series. When available, videos of past events are available online in the archives below.
The Distinguished Lecture Series is made possible through the support of Melanie and Richard Flamminio, the Seaver College Board of Visitors, and the Seaver Parents Association.
Event Schedule
2023 - 2024
"Why We Haven't Discovered Dark Matter"
Dr. Flip Tanedo
Tuesday, September 12, 2023 | 5 PM | Elkins Auditorium
Flip Tanedo spends his time thinking about dark matter. Tanedo grew up in Los Angeles and fell in love with physics after reading The Physics of Star Trek. This passion led him to degrees in mathematics and physics from Stanford, Cambridge, and Durham, and a PhD from Cornell. After a postdoc at the University of California, Irvine, he is currently faculty and an NSF CAREER award winner at the University of California, Riverside, where he is often covered in a layer of chalk dust.
"The Future of American Democracy"
Richard Haass, President, Council of Foreign Relations
Tuesday, November 7, 2023 | 5 PM | Elkins Auditorium

Richard Haass is a veteran diplomat and a prominent voice on American foreign policy. Now president emeritus, Haass served for 20 years as the president of the Council on Foreign Relations, an independent, nonpartisan membership organization, think tank, publisher, and educational institution dedicated to helping people better understand the world and the foreign policy choices facing the United States and other countries.
Haass will explore ideas from his latest New York Times bestseller, The Bill of Obligations: The Ten Habits of Good Citizens, released January 2023. It is a provocative guide to how we must reenvision citizenship if American democracy is to survive.
This is a joint event with the President's Speaker Series.
Panel Discussion of American Inheritance: Liberty, Slavery, and Religion in the Birth of a Nation
Thursday, November 30, 2023 | 4 PM | Surfboard Room
Panelists:
Richard Hughes Scholar in Residence, Lipscomb University
Christina Littlefield Associate Professor of Communication and Religion
Chris Soper Distinguished Professor of Political Science
Ed Larson holds the Hugh and Hazel Darling Chair in Law and is University Professor of History at Pepperdine University. With a PhD from the University of Wisconsin-Madison and a law degree from Harvard, Larson has taught at Stanford Law School, the University of Melbourne, Leiden University, and the University of Georgia. Previously, he served as counsel for the US House of Representatives. Recipient of the Pulitzer Prize in History and numerous other awards, Larson is the author or coauthor of 14 books and more than 100 published articles. His latest book, American Inheritance, was published in 2023.
A popular lecturer, Larson has taught at universities in China, Europe, and South America, and he has made appearances on the Daily Show and the Today Show, along with programs on PBS, the BBC, the History Channel, C-SPAN, CNN, MSNBC, and NPR.
This is a joint event with Libraries.
"Congress to Campus"
Former Members of Congress (FMC)
Monday, January 22, 2024 | 5 PM | Elkins Auditorium

For more than 40 years, Congress to Campus, the flagship program of Former Members of Congress (FMC), has provided college students with a unique civic education by engaging them in honest dialogue with bipartisan teams of FMC, Congressional staff, and American diplomats. These dialogues bring today's issues to the forefront and showcase the benefits of healthy partisanship and civility within disagreement.
Congress to Campus dialogues also provide students with unparalleled insight into careers in public service, including how to run for political office, managing work/life balance on Capitol Hill, and the thrill of debating legislation on the House or Senate floor. Program participants consistently say these sessions gave them a newfound appreciation for the dignity and excitement of public service.
This is a joint event with the Pepperdine School of Public Policy.