Services Available
Photographs

Graduates will be photographed as they receive their diplomas during the commencement ceremony by GradImages. Proofs and order forms will be emailed to all graduates who provide an e-mail address on cards which they complete immediately prior to the commencement ceremony. In the past, GradImages has been able to deliver proofs by e-mail within 24 hours. Please use this service and remain seated during the ceremony so as not to block the views of other graduates and guests on this shared, special day.
Video

Video coverage of the commencement ceremony can be purchased by visiting the following the Pure Logic Video website. 2018 DVDs are available for pre-order on the website. Please use this service and remain seated during the ceremony.
A livestream video of the commencement ceremony will be available for viewing graduation in real-time if you cannot attend the ceremony in person.
Floral Bouquets and Leis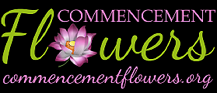 Flowers will be available for purchase at the graduation ceremony. You can also pre-order flowers and pick them up at the graduation ceremony (www.commencementflowers.org/pepperdine). If you plan to honor your graduate with flowers, please present them at the conclusion of the commencement exercises. We request that bouquets not be carried during the graduation ceremony. Flowers will not be available in the event of rain.
The University is not liable for any transactions or services offered by outside vendors.