"More Than A House..."

Pierre's Place! The Pepperdine House is underway and making great progress. The official kick-off was September 23, 2006. Recently, our volunteers started on the second floor of our home as we seek to complete our house by April.
Several groups have been out to Oxnard to assist with the project including:
University Managers from the Management Conference
Dr. Juanie Walker's classes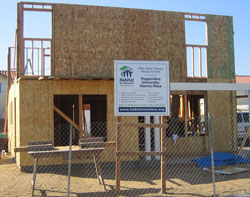 We still need volunteers every Wednesday and Saturday. You don't need to have any construction skills -- Habitat can use you no matter what your skill level! We also need volunteers to work with children from 10:00 - 12:00 on Saturdays. Please register to volunteer through the PVC Web site.
If you have any questions about volunteering, please contact Jennifer.Hollingsworth@pepperdine.edu or Nuuvea.Eshelman@pepperdine.edu.
We look forward to seeing you on the worksite!
In the News...