Meet the Faculty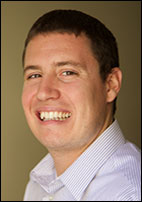 Michael Soucy, M.S.
Visiting Professor of Sports Medicine
Division: Natural Science Division
Office: Rockwell Academic Center (RAC) 198
Phone: 3105064949
E-mail: Michael.soucy@pepperdine.edu

M.S. in Kinesiology, Emphasis in Biomechanics, University of Nevada, Las Vegas, 2016
B.S. in Exercise Science, California Lutheran University, 2014, Departmental Honors, 2014
Mr. Soucy is a new professor but does bring teaching experience from the University of Nevada, Las Vegas. His research has been primarily related to lower extremity function during locomotion. Specifically, Mr. Soucy focuses on muscular function and kinematics of the lower extremity. Mr. Soucy has presented at both Regional and National meetings of the American College of Sports Medicine.
Courses:
Musculoskeletal Anatomy
Biomechanics
Academic Interests:
Gait
Lower extremity function
Muscle Activity
Selected Works:
Effects of Active Workstation Use on Walking Mechanics and Work Efficiency , 2015
Does wearing a triathlon wetsuit influence resting blood pressure for females? , 2016