Mathematics Major and Minor
Our mathematics program is designed to prepare students for careers in both teaching and industry. Students who complete mathematics major or minor programs have historically been viewed by employers as being well prepared for jobs that require problem solving and creative thinking skills.
Mathematics Degrees
Bachelor of Science in Mathematics
This degree provides students with broad exposure to disciplines in mathematics. Students in this major pursue careers and graduate education in a wide variety of fields including mathematics and statistics, business and finance, computers science, education, law and medicine.
Bachelor of Arts in Mathematics Education
This degree prepares students for a career in secondary education (grades 9-12) as mathematics educators.



Mathematics Minors
Minor in Mathematics
The mathematics minor provides students with a foundation in both abstract reasoning and computation fluency. Students completing a math minor have strong problem solving and critical thinking skills. A minor in mathematics is excellent preparation for students wishing to pursue law school, computer science, elementary or middle school education, economics, and many other careers that depend on an ability to think and communicate logically and clearly.
Minor in Applied Mathematics
The applied mathematics minor is an excellent complement to such majors as economics, business, chemistry, physics, biology and sports medicine. It is designed to give students a deeper understanding of mathematical concepts and a more robust set of quantitative reasoning skills, which are increasingly important in the fields of business and the physical sciences.


What Mathematics Grads Are Doing
Data collected from the 2022 class within six months of graduation.
63%
Employed Full-Time or Part-Time
25%
Admitted to Graduate School
88%
Total Settled Graduates
Why Pepperdine
Pepperdine Seaver College is consistently recognized among the top-ranked universities in California and the United States. We are a Christian university where students grow in knowledge and character. As a liberal arts institution, we focus on providing rich opportunities for intellectual and spiritual exploration for students with a diverse community.
13:1 Student-to-Faculty Ratio
80% of Students Participate in an International Program
Beyond the Classroom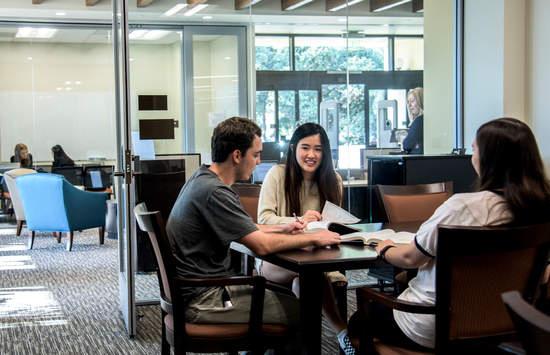 Preparation for Your Future
Preparation for Graduate or Professional Schools
Over half of our graduates have been admitted to graduate or professional schools in mathematics, computer science, statistics, medicine, law, engineering, or education. Our majors are accepted in to some of the finest institutions for advanced studies after graduation, including the University of California, Duke, University of Washington, Washington University, University of Oregon, and many more. Of all majors, mathematics majors nationally have recently had the highest acceptance rates in medical and law schools.
---
Secondary Teaching Credential
Students who plan to teach mathematics in secondary schools of California should complete their degree with a mathematics or mathematics education major and obtain a California Teaching Credential. Several of the courses required for the California Teaching Credential are already part of the mathematics education major. If you plan on teaching in another state, you will need to obtain a credential for that state. (Some states will accept the California credential, while others will have their own specific rules.)
---
Potential Careers
The critical thinking and technical skills acquired during completion of a mathematics degree are desirable to a wide range of careers and fields including:
Actuarial Science
Engineering
Business Analytics
Finance
Computer Programming
Law
Cryptography
Management Consulting
Data Science
Medicine
Education
Statistics

Additional career options based on a degree in mathematics are listed at American Mathematical Society. Individual career profiles can be viewed at https://www.maa.org/careers/career-profiles
Mathematics Student Testimonials
Take the Next Step
Reach out to us to learn more about Pepperdine's undergraduate programs.
Get In Touch
Learn more about how you can join the Pepperdine community.
Visit Our Campus
Explore Seaver College and connect with an admission counselor.
Start Your Application
Submit an application and be one step closer to becoming a Wave.
Contact Us
Natural Science Division
Pepperdine University
24255 Pacific Coast Highway
Malibu, CA 90263
Office: RAC 106