Meet the Faculty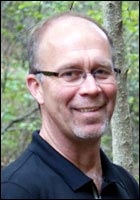 Lee Kats
Professor of Biology
Vice Provost For Research and Strategic Initiatives
Frank R. Seaver Chair of Natural Science
Division: Natural Science Division
Office: Thornton Administrative Center (TAC) 419
Phone: (310) 506-4310
E-mail: lee.kats@pepperdine.edu

B.A., Biology, Calvin College, 1984
Ph.D., Biology, University of Kentucky, 1989
Courses:
Tropical Forest Ecology
BIOL 109: Introduction to Animal Behavior
BIOL 311: Introduction to Ecology
BIOL 340: Natural History of Vertebrates
BIOL 360: Environmental Politics and Policy
MATH 317: Laboratory for Statistics and Experimental Design
Key Awards/Affiliations:
Keck Foundation: 2011-2015. "Developing the Undergraduate Scholars"
Frank R. Seaver Chair in Natural Science 2000-present
National Park Service and U.S. Geological Survey: 2009. "Survey of Flora and Fauna of National Parks" (co-P.I.s-Lee Kats, Tom Vandergon, Rodney Honeycutt, Stephen Davis, Karen Martin)
Santa Monica Bay Restoration Project: 2003-2006. "Trancas Creek Restoration" (co-P.I.s- Lee Kats and the Mountains Restoration Trust)
National Science Foundation Grant: 2000-2002. REU: Undergraduate Research in Biology (co-P.I.s- Steven Davis, Lee Kats, Tom Vandergon and Karen Martin)
Academic Interests:
Amphibian ecology
Conservation biology
Stream ecology
Tropical forest ecology.
Selected Works:
Bucciarelli, G.M, D Suh, A. Davis, D. Roberts, D. Sharpton, H.B. Shaffer, R.N. Fisher and L.B. Kats. 2018. Assessing effects of non-native crayfish on mosquito survival. Conservation Biology https://doi.org/10.1111/cobi.13198.
Ota, W.M., B. Olsen, G.M. Bucciarelli, and L.B. Kats. 2018. The effect of newt toxin on an invasive snail. Hydrobiologia (https://doi.org/10.1007/s10750-018-3568-1).
Velasco, M.A., I. Berkunsky, M.V. Simoy, S. Quiroga, G.M. Bucciarelli, L.B. Kats and F. P. Kacoliris. 2017. The rainbow trout is affecting the occupancy of native amphibians in Patagonia. Hydrobiologia (https://doi.org/10.1007/s10750-017-3450-6).
Bucciarelli, G.M., H.B. Shaffer, D.B. Green and L.B. Kats. 2017. An amphibian chemical defense is inducible across life history stages. Scientific Reports 7:8185 (doi:10.1038/s41598-017-08154-z).
Calhoun, C.M., G.M. Bucciarelli, L.B. Kats, R.K. Zimmer and P.T. Johnson. 2017. Noxious newts and their natural enemies: Experimental effects of tetrodotoxin exposure on trematode parasites and aquatic macroinvertebrates. Toxicon 127:120-127.
Bancroft, B.A., B.A. Han, C. L. Searle, L.M. Biga, D.H. Olson, L. B. Kats, J.J. Lawler and A.R. Blaustein. 2011. Species-level correlates of susceptibility to the pathogenic amphibian fungus Batrachochytrium dendrobatidis in the United States. Biodiversity and Conservation 20:1911-1920.
Blaustein, A.R., B.A. Han, R.A. Relyea, P.T.J. Johnson, J.C. Buck, S.S. Gervais and L.B. Kats. 2011. The complexity of amphibian population declines: understanding the role of co-factors in driving amphibian losses. Annals of the New York Academy of Sciences 1223:108-119.
Kats, L.B., R. Van Dragt, G. Van Dragt, S. Rollert, T. Thurling, R. Johnson, D. Cho, and S. Landis. 2008. Undergraduate research: Communicating ecological field studies to local school children through outreach and curriculum. Council on Undergraduate Research Quarterly 29:58-62.