Meet the Faculty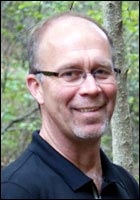 Lee Kats
Professor of Biology
Vice Provost For Research and Strategic Initiatives
Associate Dean for Research
Frank R. Seaver Chair of Natural Science
Division: Natural Science Division
Office: Rockwell Academic Center (RAC) 125
Phone: (310) 506-4310
E-mail: lee.kats@pepperdine.edu

B.A., Biology, Calvin College, 1984
Ph.D., Biology, University of Kentucky, 1989
Courses:
Tropical Forest Ecology
BIOL 109: Introduction to Animal Behavior
BIOL 311: Introduction to Ecology
BIOL 340: Natural History of Vertebrates
BIOL 360: Environmental Politics and Policy
MATH 317: Laboratory for Statistics and Experimental Design
Key Awards/Affiliations:
Keck Foundation: 2011-2015. "Developing the Undergraduate Scholars"
Frank R. Seaver Chair in Natural Science 2000-present
National Park Service and U.S. Geological Survey: 2009. "Survey of Flora and Fauna of National Parks" (co-P.I.s-Lee Kats, Tom Vandergon, Rodney Honeycutt, Stephen Davis, Karen Martin)
Santa Monica Bay Restoration Project: 2003-2006. "Trancas Creek Restoration" (co-P.I.s- Lee Kats and the Mountains Restoration Trust)
National Science Foundation Grant: 2000-2002. "REU: Undergraduate Research in Biology" (co-P.I.s- Steven Davis, Lee Kats, Tom Vandergon and Karen Martin)
Academic Interests:
Amphibian ecology
Conservation biology
Stream ecology
Tropical forest ecology.
Selected Works:
Bancroft, B.A., B.A. Han, C. L. Searle, L.M. Biga, D.H. Olson, L. B. Kats, J.J. Lawler and A.R. Blaustein. (in press). Species-level correlates of susceptibility to the pathogenic amphibian fungus Batrachochytrium dendrobatidis in the United States. Biodiversity and Conservation.
Blaustein, A.R., B.A. Han, R.A. Relyea, P.T.J. Johnson, J.C. Buck, S.S. Gervais and L.B. Kats. 2011. The complexity of amphibian population declines: understanding the role of co-factors in driving amphibian losses. Annals of the New York Academy of Sciences 1223:108-119.
Kats, L.B., R. Van Dragt, G. Van Dragt, S. Rollert*, T. Thurling*, R. Johnson*, D. Cho*, and S. Landis*. 2008. Undergraduate research: Communicating ecological field studies to local school children through outreach and curriculum. Council on Undergraduate Research Quarterly 29:58-62.
Han*, B.A., L.B. Kats, R.C. Pommerening*, R.P. Ferrer, M. Murry-Ewers and A.R. Blaustein. 2007. Behavioral avoidance of ultraviolet-B by two species of neotropical poison-dart frogs. Biotropica 39:433-435.
Zimmer, R.K., D.W. Schar, R.P. Ferrer, P.J. Krug, L.B. Kats and W.C. Michel. 2006. The scent of danger: tetrodotoxin (TTX) as an olfactory cue of predation risk. Ecological Monographs 76:585-600.
Watters*, T.S. and L.B. Kats. 2006. Longevity and breeding pool fidelity in the California newt (Taricha torosa): A long-term study using PIT tagging. Herpetological Review 37:151-152.
Kerby, J.L., S.P.D. Riley, L.B. Kats and P. Wilson. 2005. Barriers and flow as limiting factors in the spread of an invasive crayfish (Procambarus clarkii) in southern California streams. Biological Conservation 126:402-409.
Riley, S.P.D., G.T. Busteed, L.B. Kats, T.L. Vandergon, L.F.S. Lee, R.G. Dagit, J.L. Kerby, R. N. Fisher and R.M. Sauvajot. 2005. Effects of urbanization on the distribution and abundance of amphibians and invasive species in southern California streams. Conservation Biology 19:1894-1907.