Meet the Faculty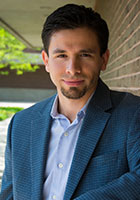 Javier Monzon, Ph.D.
Assistant Professor of Biology
Division: Natural Science Division
Office: Rockwell Academic Center (RAC) 132
Phone: 310-506-4478
E-mail: Javier.Monzon@pepperdine.edu

Postdoctoral Fellow, Center for Infectious Diseases and Dept. of Molecular Genetics & Microbiology, 2013-2015, Stony Brook University
PhD, Ecology and Evolution, Stony Brook University, 2012
BA in Biology, Queens College, City University of New York, 2004
Courses:
Ecology
Zoology
Animal Behavior
Academic Interests:
Conservation biology
Ecology and evolution of mammalian carnivores
Molecular and behavioral ecology
Selected Works:
Toledo, A, JD Monzon, JL Coleman, JC Garcia-Monco, JL Benach. 2015. Hypercholesterolemia and ApoE deficiency result in severe infection with Lyme disease and relapsing-fever Borrelia. Proceedings of the National Academy of Sciences 112: 5491-5496.
Monzon, J. 2014. First regional evaluation of nuclear genetic diversity and population structure in northeastern coyotes (Canis latrans). F1000Research 3:66.
Janson, CH, J Monzon, and MC Baldovino. 2014. Experimental analysis of predator and prey detection abilities in rainforest habitat: who has the advantage? Behaviour 151:1491-1512.
Monzon, J, R Kays, and D Dykhuizen. 2013. Assessment of coyote-wolf-dog admixture using ancestry-informative diagnostic SNPs. Molecular Ecology 23:182-197.
Monzon, J, L Moyer-Horner, and M Palamar. 2011. Climate change and species range dynamics in protected areas. BioScience 61:752-761. Featured as the cover article.