Message from the Natural Science Divisional Dean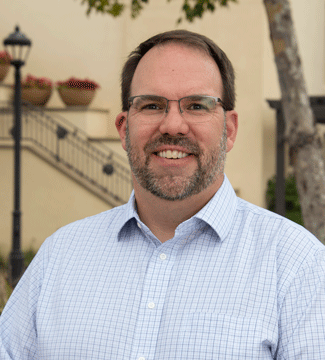 August 2021

Greetings from the faculty and staff of the Natural Science Division! Whether you are a prospective student, a current student, or an alumnus, we are enthused about your interest in our program.

The Natural Science Division is a high-performing, collegial group of superb and creative faculty, energetic students, and dedicated staff. We pursue excellence in the context of our service to Christ, a heritage in the Churches of Christ, the missions of Seaver College and Pepperdine University, and we seek to build to a community of belonging for all. We are entrusted with students for a short, but highly formative, time to aid their intellectual and spiritual development. The energetic and dynamic faculty rise to this challenge daily in the classroom, laboratory, and field by providing superior class offerings and research studies. Students partner with the faculty and are empowered and encouraged to grow, develop, and seek truth in its many forms and from diverse perspectives. Our faculty care for students and make authentic connections with them which is revealed often and throughout a student's time in the
division and vividly at graduation receptions each year in the outpouring of emotions and praise for our graduates.
Teaching

I'm proud to be a faculty member alongside the division's accomplished and innovative teachers who demonstrate exceptional skill in the classroom teaching general education classes as well as specialized courses in STEM fields. The faculty strive for academic excellence and eager students are drawn to the Natural Science Division because of its vibrant community of scholars. On many occasions faculty members have been recognized with university and national teaching awards. Our classrooms and laboratories are regularly updated to provide the venue for transformative educational experiences to take place. Faculty have incorporated technological innovations adopted in response to the pandemic to bolster their in-person courses. Our values prompt us to continue innovating teaching with best and high-impact practices to prepare students for the highly-competitive employment market and graduate programs that await after graduation.

Scholarly Activities

Research programs are central to premier undergraduate STEM education, and the outstanding scholars of the Natural Science Division make rich discoveries while mentoring students from novices in their field to quickly becoming independent and capable practitioners. Each year approximately 50 undergraduates "learn while doing" in the lab and the field with modern equipment and facilities, which provide the venue for discoveries not yet even imagined. Students and faculty benefit from the funding support of programs like Summer Undergraduate Research in Biology, Stauffer Research Fellowships, Flora L. Thorton Fellowships, Undergraduate Research Fellowships, the Summer Undergraduate Research Program, and Academic Year Undergraduate Research Initiative. Students and faculty present their scholarly work at local, national, and international professional conferences and publish their studies in top journals, as book chapters, and more! Many students are recognized with admission to prestigious, top-tier programs and national awards and fellowships (National Science Foundation Graduate Research Fellowships or Fulbright Fellowships) during their time at Pepperdine or soon after.
Beyond the Classroom

The faculty of the Natural Science Division authentically connect with students outside the classroom and laboratory with transformational experiences. Students' lives are enriched by experiences in the Santa Monica Mountains, service learning with K-12 students, traveling to locales both near and far for service learning, and capstone projects. In addition, faculty express their care for students through spiritual mentorships, hosting dinners in their homes, and Club Convos. Camaraderie and fellowship cultivates the sense of belonging for students and enriches the lives of all.

After Graduation

As a result of the superb faculty, classes, training, and experiences that students have during their time in the Natural Science Division, they have had strong success in the admissions processes to top medical, dental, law, and graduate schools. Our graduates are also highly desirable and recruited within their field of specialization and beyond. The encouragement and mentoring of faculty plays a vital role in student success as they guide and also recognize vocational aptitudes and passions that students sometimes don't even recognize in themselves. This reflects the deep passion of faculty to daily strive to fulfill our mission to prepare and strengthen students for lives of purpose, service, and leadership.

As we remember our heritage, we also look ahead to the bright future of the Natural Science Division as we aspire to our mission of belonging, focusing on our Christian mission with hospitality to all, and our vigorous pursuit of academic excellence. The faculty demonstrate resiliency, creativity, flexibility, and collaborate with students to meet current and future challenges to make an impact in our world. Thanks for your interest and hope that you'll consider joining us. I invite you to peruse the websites of the programs and faculty of the Natural Science Division for more information.

Joe Fritsch
Divisional Dean of Natural Science
Professor of Chemistry