Encountering Texts
Encountering Texts: The Multicultural Theatre Project and 'Minority' Literature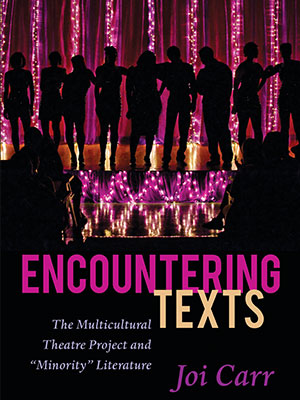 Encountering Texts represents the theory and praxis uncovered through an ongoing interdisciplinary arts-based critical pedagogy that engages students in critical self-reflection (disciplined, sustained thinking, requiring engagement) on difference. The Multicultural Theatre Project (MTP) is a dialogical encounter with literature through the dramatic arts.
This book provides a blueprint for the multiple ways in which this enacted theory/method can be utilized as a high impact practice toward transformative learning.
This integrative work provides a promising pragmatic interdisciplinary approach to teaching and learning that creates bridges to liberatory knowledge, both cognitively and affectively.
Reviews for Encountering Texts
"An innovative, exciting, and energizing study that introduces new models of transdisciplinary and transformative learning through arts based pedagogy. Theater becomes an important site of encounter and discovery of new modes of consciousness as well as new strategies for the classroom."
—Wendy Martin, Professor of American Literature and American Studies, Claremont Graduate University
"The theater is still the one place our society has to explore 'what it means to be a human being.' If Joi Carr can do this kind of work with young people in a university setting, imagine what she can do in the world of professional theater? Her direction conveys insight and sensitivity, not an easy accomplishment when working with non-actors, or inexperienced actors."
—Keith David, double Emmy Award winner and Tony Award nominee; Alumnus, Juilliard School of Drama
For more information about Dr. Joi Carr and her scholarship, visit her faculty profile.