MTP Alumni Close Ups
---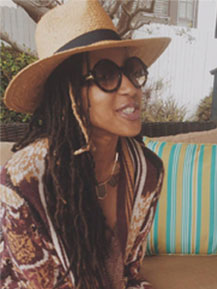 Patrice Patrick
Patrice is a native of Southern California and a graduate of Pepperdine University (English/drama 2002) and the USC School of the Cinematic Arts (Film/TV Production 2006). Patrice now spends her time as a TV Freelancer, Youth Pastor, and Story Blogger chronicling her life in Hollywood, relationships, and faith.
My MTP experience:
"There was something imparted to me that looked a lot like bravery, kindness, fierceness, humility, and joy by being a part of the MTP. The brilliance being: Dr. Joi Carr incorporating personal elements of each contributor, actor, artist into the overall theme of a show. In essence, the MTP experience becomes more than just a side performance or another club at Pepperdine, but it becomes something that shows you who you are at the time and who you could be, if you so choose. MTP stretches you, scares you, inspires you, challenges you--It has the imprint of true life. Which always makes for the best stories.
In addition to the fun experimental style of each show, I've walked away with life long friends that I'll forever be connected with because of that moment in time. There was nothing like it prior in my life, and I've not experienced anything like MTP since.Working in the world of entertainment full time, my colleagues and I are always looking for or hoping to develop that piece of story that evokes true emotion and highlights something profound (whether big or small) in the story of being human. When that chord is struck, you hear that sound forever. And that is my takeaway. I was able to experience and become a part of new sound through MTP, one that produced a song in me. A song that kept me hungry for the arts after all these years, pushing me to never settle for a mundane life, and to never stop taking risks."
---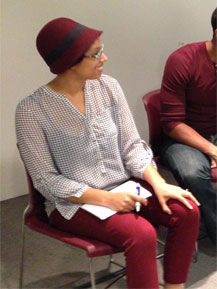 Jessica Ngo
Pepperdine graduate, class of 2006, in Creative Writing with a Spanish minor and 2008 graduate of University of Southern California in Professional Writing with a in specialty Creative Nonfiction.
"I am Assistant Professor of English at Otis College of Art & Design. I teach writing and literature courses to BFA students and coordinate the First Year Writing program. I also write. My most recent publication was a poem titled "Bullying Arts Education" that was published in the LA Times last fall. When not teaching or writing, I spend as much time as I possibly can traveling anywhere and everywhere with my husband or sister. My most recent travel experience was a mini tour of Europe with my husband. We went to Madrid, Barcelona, Venice, Rome, and Paris all in a matter of two weeks.
My MTP experience:
My MTP experience was about growth and breaking out of my shell, to use the old cliche. I had never performed in front of people before and didn't think I could do it up until the very moment I walked on stage on opening night. I learned a lot about myself and my ability to tackle obstacles. It was definitely one of the highlights of my time at Pepperdine."
---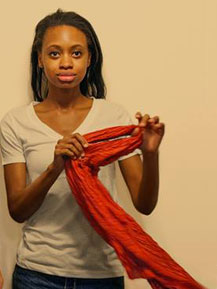 Julia Taiwo Oni
"Since I graduated from Pepperdine in 2006, I have received my MFA in Dramatic Writing from USC and been teaching and working as a playwright in L.A. I teach English Composition here at Pepperdine, and I also teach composition, literature, and culture at the New York Film Academy in Burbank. In the area of playwriting, I've had productions and workshops in LA and a production in Washington, D.C. Since I'm a half Nigerian twin, I tend to write plays that deal with twin identity as well as interactions between Africans and Americans. My newest play is called Chisel, and it's a juxtaposition between the rampant killings and discrimination of people with albinism in Tanzania and the sufferings of Black Americans at the hands of authorities in the U.S."
My MTP experience:
"Exposure to Joi's [Dr. J. Carr] passionate and creative process through the crafting of the MTP production undoubtedly impacted me to pursue stories of personal and social significance. She is one of the first people in my life who instilled in me this notion that I do have a story to tell, and that it does matter."
---