Welcome from Our Divisional Dean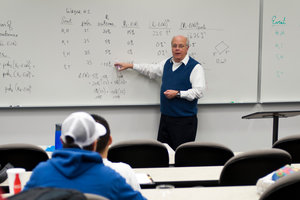 Situated in one of the highest rated private colleges on the West Coast, the Business Administration Division of Seaver College provides our students with a unique opportunity to combine a broad liberal arts education with a first-rate bachelors of science degree in a business discipline. Our Business Administration Division courses are taught in a small-class format by faculty who are devoted to the development of the student's mind and character. The quality of our program is certified by the leading international business accreditation agency in the world, the Association to Advance Collegiate Schools of Business (AACSB). All of this leads to graduates whose employment-at-graduation-ratio is twice the national average.
Our division offers rigorous bachelors of science degrees in accounting, business administration, and international business. All three majors provide a strong foundation in the disciplines of accounting, economics and finance, management, marketing, and quantitative analysis, preparing our graduates with the broadest and most flexible backgrounds. For students who want to continue their education beyond the BS degree, a five-year MBA program is offered in partnership with the Graziadio Business School, our graduate business school at Pepperdine.
Our faculty are constantly upgrading and updating their knowledge and skills by attending and presenting papers at conferences, and publishing articles in some of the most prestigious outlets. Other faculty draw from their extensive professional experience with firms such as ARCO, 3M, and JD Power and Associates. Given that our Business Administration Division classes are rarely larger than 25 students, our students benefit from personal contact with their professors. Indeed, increasingly faculty are engaging in research projects with their students, offering them first-hand experiences in how to keep current in the rapidly changing business world.
Our programs offer a combination of opportunities not available in any other business degree program. Our service leadership project, a course taken by all Seaver Business students in their fourth year, links teams of students with non-profit organizations to give students real-world consulting experience in business solutions, as well as furthering our college's motto of "freely receive, freely give." Through arrangements with the Pepperdine Caruso School of Law, students can also earn a certificate in dispute resolution from the number one dispute resolution program in the country. Students who want to broaden their international experience can travel to one of the international programs, some of which offer internships. They also have the opportunity to earn noteworthy endorsements such a Bloomberg and Six Sigma certifications.
The results speak for themselves. In the last four years, three Seaver Business graduates have won prestigious Fulbright Scholarships to study overseas after graduation. Graduates of our programs have received job offers from Goldman Sachs, Deloitte Consulting, Bloomingdales, and all the big-four accounting firms, among many others.
If a program that enhances your intellect and your character by incorporating scholarship, practical experience, and unique opportunities appeals to you, please contact us and we will answer any questions you have. Better yet, if you are touring the campus and would like to meet with me in person, please contact my office to arrange an appointment.
Dean Baim
Professor of Economics and Finance
Divisional Dean of Business Administration
Seaver College, Pepperdine University