Seaver Perspectives: Working on Campus
When I returned from my sophomore year abroad with International Programs and began my job hunt, I was expecting to find a standard after-class, minimum-wage job. Hoping to simply add a few more lines to my resume and cover gas and groceries expenses, I wasn't expecting much. hat I found, though, when I was hired by the Student Employment Office[BROKEN LINK] was a position that offered patience and encouragement as I learned how to develop skills and abilities I learned in the classroom..
Initially, I applied for a student assistant/front desk position that a roommate of mine previously had. However, because of my experience as media coordinator in the Shanghai international program, I was offered a position as social media/marketing intern and office videographer.
On the Job Learning
Upon starting in my new role, I learned that the office wanted to restructure their training program, integrate video elements, and create a more pleasing overall design. Having only basic Photoshop knowledge and an elementary understanding of video production, I was unsure if my skill set would be adequate. Despite not being sure if I would be able to execute the desired changes, my team and I started planning projects to improve the program.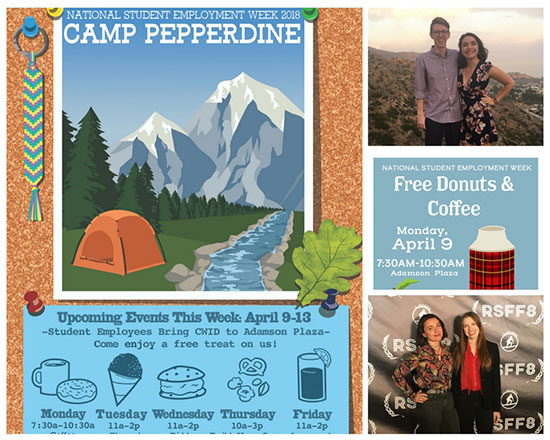 While learning on the job can be intimidating, my supervisors were completely understanding and overall the experience proved to be a remarkably positive. There was no doubt that what I was learning in the classroom was relevant as I implemented file management and editing techniques in the office that I had learned in my media production classes. On the job, I learned to never to say "no" to a request but to discuss what I felt was doable with our available resources and then return later with further options.
On-Campus Employment Benefits
One of the benefits of on-campus student employment is having superiors who are empathetic to your situation and who have undergone training about managing individuals in the unique position of acting as a student and employee simultaneously. There is never any pressure to create some façade of being an expert. My relationship with my supervisor has helped me to feel comfortable in occasionally responding to requests with "I'm going to Google that really quickly and get back to you." In planning ahead on projects, I have been fortunate to have the time and flexibility to experiment, improve, and expand on my abilities.
I will forever be grateful for finding myself in the kind of position where if I suggest to my supervisor that I want to take an upcoming project as an opportunity to teach myself InDesign, it is met with encouragement instead of stress about upcoming deadlines. My supervisor understands that this position is not only an opportunity for me toy enhance the mission of our office, but also to build a skill set that will make me a more desirable candidate for future employers.
In the right environment, being in over one's head can be a wonderful thing. After spending a challenging year living abroad in China, I never would have expected working in an office at Pepperdine to be one of the most formative experiences of my time in college.