Lynn Williams
W. David Baird Distinguished Lecture Series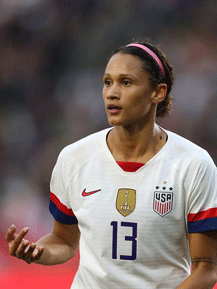 "Kicking it with Lynn Williams: Discussion on Race, Sports & Society"
Wednesday, April 28, 2021 | 5 PM, Virtual
Seaver College alumna and former Pepperdine soccer player Lynn Williams has experienced great success on and off the field since graduating in 2015. She was selected sixth overall in the 2015 National Women's Soccer League (NWSL) draft, as a member of both the Western New York Flash and the North Carolina Courage, Lynn has won three NWSL Championships, three NWSL Shields, and is on pace to become the league's all-time leader in goals and assists. Internationally, Lynn is a member of the US Soccer Women's National Team (USWNT) since her 2016 debut and has since won three SheBelieves Cups and played an instrumental part in the USWNT qualifying for the 2022 Olympics.
Off the field, Lynn is using her platform to challenge issues of racism and social injustice that exist in society and within the sport of soccer. A member of the Black Women's Players Collective, Ms. Williams is speaking out to advance equality for all people. Her experiences and insights as both an alumna and world-class athlete will help to shape and inform our efforts to advance inclusion and belonging at Pepperdine. Please join us as Lynn continues this conversation for the Seaver community through a panel interview discussion led by Seaver students and faculty.