Edward Larson - Panel Discussion
WDB Lecture Series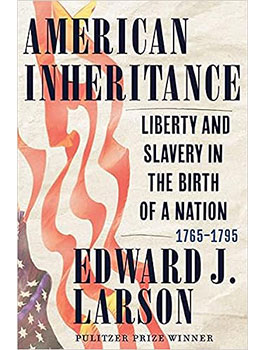 Panel Discussion of American Inheritance: Liberty and Slavery in the Birth of a Nation by Edward J. Larson
Thursday, November 30, 2023 | 5 PM | Surfboard Room
This is a joint event with Libraries.
Ed Larson holds the Hugh and Hazel Darling Chair in Law and is University Professor of History at Pepperdine University. With a PhD from the University of Wisconsin-Madison and a law degree from Harvard, Larson has taught at Stanford Law School, the University of Melbourne, Leiden University, and the University of Georgia. Previously, he served as counsel for the US House of Representatives. Recipient of the Pulitzer Prize in History and numerous other awards, Larson is the author or coauthor of 14 books and more than 100 published articles. His latest book, American Inheritance, was published in 2023.
A popular lecturer, Larson has taught at universities in China, Europe, and South America, and he has made appearances on the Daily Show and the Today Show, along with programs on PBS, the BBC, the History Channel, C-SPAN, CNN, MSNBC, and NPR.