W. David Baird Distinguished Lecture Series: Dr. Holloway
Dr. Karla Holloway
"How Private Bodies become Public Texts (and how the law makes this happen)"
Wednesday, February 13, 2013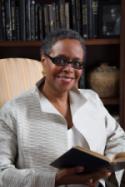 Karla FC Holloway, Ph.D., M.L.S., is James B. Duke Professor of English and Professor of Law at Duke University. She also holds appointments in two interdisciplinary programs—Women's Studies and African and African-American Studies. Her research and teaching focus on African American cultural studies, biocultural studies, ethics, and law. Her national and institutional board memberships include the Greenwall Foundation's Advisory Board in Bioethics and the Hastings Center—a selective organization of the nation's most influential bioethicists. She is a co-founder of Duke University's John Hope Franklin Center for International and Interdisciplinary Studies and founding co-director of the John Hope Franklin Humanities Institute. Professor Holloway is the author of over forty essays and eight books including Private Bodies, Public Texts: Race, Gender, and a Cultural Bioethics (2011). Legal Fictions: Constituting Race and Composing Literature will be released later this year. She is the recipient of national awards and foundation fellowships recognizing her scholarship, most recently the Rockefeller Foundation's Bellagio Residency Fellowship and the Sheila Biddle Ford Foundation Fellowship at Harvard University's Du Bois Institute. Word has it that she is also working on a novel, but there has been no independent confirmation of this speculation.