W. David Baird Distinguished Lecture Series: Dr. Damasio
Dr. Antonio Damasio
"An Evening with Antonio Damasio"
Thursday, February 17, 2011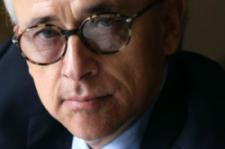 Antonio Damasio is David Dornsife Professor of Neuroscience and Director of the Brain and Creativity Institute at the University of Southern California. Damasio has made seminal contributions to the understanding of how the brain processes memory, language, emotions, and decisions and has described his discoveries in best selling books (Descartes' Error, The Feeling of What Happens, and Looking for Spinoza) translated into over 30 languages. Damasio is a member of the Institute of Medicine of the National Academy of Sciences and a fellow of the American Academy of Arts and Sciences, the Bavarian Academy of Sciences, and the European Academy of Sciences and Arts. He has been named "Highly Cited Researcher" by the Institute for Scientific Information. His new book Self Comes to Mind is forthcoming this fall.