W. David Baird Distinguished Lecture Series: Azar Nafisi
Azar Nafisi
"The Republic of the Imagination"
Thursday, November 4, 2010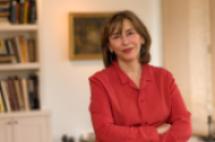 Azar Nafisi is best known as the author of the national bestseller Reading Lolita in Tehran: A Memoir in Books, which electrified its readers with a compassionate and often harrowing portrait of the Islamic revolution in Iran. The book has spend over 117 weeks on the New York Times bestseller list and has been translated in 32 languages. In 2009 it was named as one of the "100 Best Books of the Decade" by The Times (London).
Nafisi is a Visiting Professor and the director of Cultural Conversations at the Foreign Policy Institute of Johns Hopkins University's School of Advanced International Studies, where she is a professor of aesthetics, culture, and literature. Her latest book, Things I Have Been Silent About: Memories, was published in January 2009. Her upcoming projects include Republic of the Imagination and That Other World: Nabokov and the Puzzle of Exile.